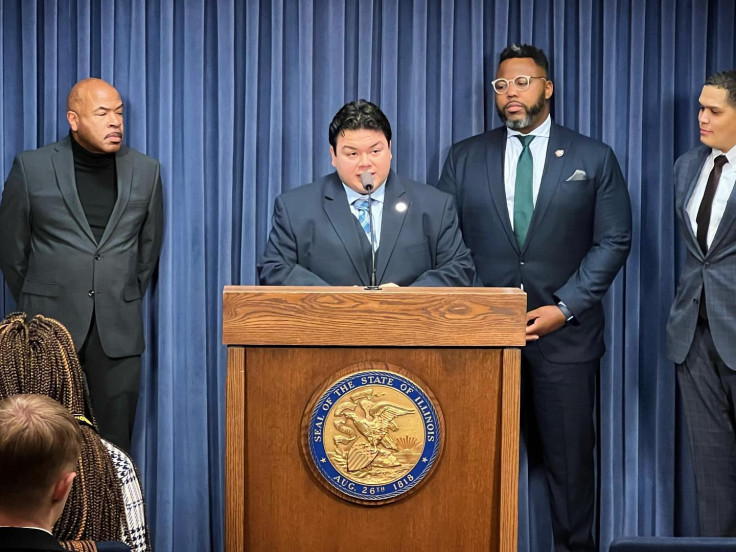 A recent study by the Pew Research Center found that gun violence and housing insecurity are the top two concerns of Chicago Latinos. The study also found that Latinos are more likely than other Chicago residents to report feeling unsafe in their neighborhoods.
The study's findings come as no surprise to many Chicago Latinos, who have been disproportionately affected by gun violence and housing insecurity for decades. In 2020, Latinos accounted for 31% of all gun violence victims in Chicago, despite making up only 29% of the city's population. And according to the National Alliance to End Homelessness, Latinos are more than twice as likely as white people to experience homelessness in Chicago.
These two issues are two of the main concerns for the Latino community in Chicago, state representative told The Latin Times in an interview.
Gonzalez Jr, one of the youngest members of the Illinois General Assembly, represents the state's 23 district, which holds over 100,000 residents and includes many Latino neighborhoods, including Little Village, Brighton Park and Cicero. Combined, 86% of residents in these three communities identify as Latinos.
Gonzalez Jr was first appointed to the Illinois House of Representatives in 2020 to fill a vacancy left by the former state representative Celina Villanueva, but in 2022, Gonzalez was elected by a large majority over a republican challenger. He currently sits on several state committees, including the Small Business, Tech Innovation, and Entrepreneurship Committee and Cybersecurity, Data Analytics, and IT Committee.
The Latin Times spoke to Gonzalez to learn about the challenges of representing Latino residents and to gain insight into what issues constituents care about the most.
This conversation has been edited for clarity purposes:
What are the main issues you hear about from your constituents?
The district, by nature, is predominantly a working-class district. I would say it's the most Latino district in the state, and it is the youngest district in the state. Right now, across the whole board, people want to be talking about gun violence and housing insecurity. In Little Village, when people talk about it [gun violence] because people are very used to it, it's become normalized. But there are more people talking about it in Brighton Park, saying that the neighborhood was on track to be better, and it's kind of fallen back into the cycle of violence.
When it comes to housing insecurity, we've actually had a few people who've talked about young people experiencing homelessness in the area. Beyond that, property taxes are something that everybody talks about, especially in Cicero because of the flooding that happened in the summer. People want to know why they're paying so much in taxes and why the town and government aren't helping when it comes to renovations or when applying for FEMA.
What are some of the challenges of representing a large Hispanic district?
My voter pool is a lot smaller than for other districts, just because a lot of the folks who live in the district are undocumented or permanent residents, and many times they don't get as much attention. People just focus only on the people who actually vote for them. It shouldn't be like that; in the end, I represent everybody in the district.
We get a lot of foot traffic in the office, and I have two Latina staffers; one is 27 and the other 25, and I'm 26, but we're young, so many times when people look for services, especially from some of the more senior members of our district they think were just young kids. But when they see the work that we do and the legislation we've helped pass, they look past our ages.
The Chicago mayor has proposed opening a migrant shelter in your district to house many of the migrants arriving in the city; how have constituents responded to this?
The conversations have been extremely mixed. The district is 86% Latino, and it's heavily immigrant; because of that, many are not opposed to migrants coming here, but there are a few people who believe that migrants should not be coming here. There were a lot of constituents in opposition, but some of those constituents weren't even from the actual neighborhood. And there was somebody saying that we should get the National Guard involved.
What caught people off guard with the shelter being planned for 38th and California is that people were told about it after it was approved. I think that's what caught a lot of people off guard because they felt that they were sidelined. There are also people saying that they [migrants] have a right to be here, and then their concern is more that migrants are going to be kept in camps during the cold winter months.
© 2023 Latin Times. All rights reserved. Do not reproduce without permission.