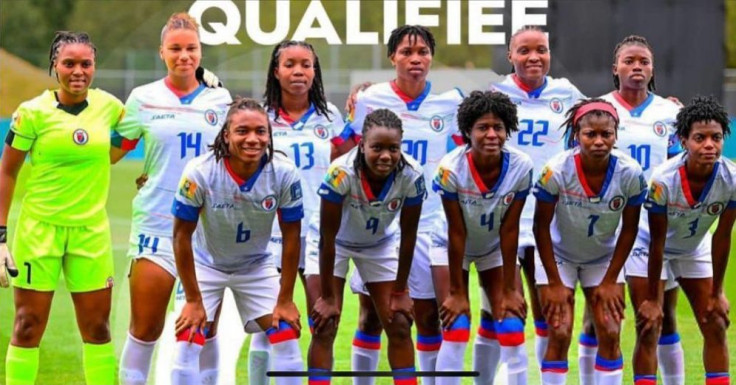 The Haiti football team will face England at the Women's World Cup in Brisbane, Australia.
It is Haiti's first match at the competition, and for goalkeeper Kerly Theus, who plays for the Haiti women's national team, it will be the biggest of her career. She sees the moment as an opportunity that inspires the next generation, reported BBC.
She has a message specifically for the girls in Haiti. She said, "Keep pushing, keep driving and this moment, you'll have it too when it's your time."
Theus and her teammates want to propel her country, which has been in the news for gang violence and instability, into the spotlight for a good reason.
Her country is engulfed in gang violence, and the last democratically elected officials left office in February. People in Haiti are also recovering from an earthquake and cholera outbreak in 2010 that took the lives of more than 100,000 people.
She said she has been to tournaments where people didn't know about Haiti.
According to her, the World Cup is the biggest stage where the participant's country and name are publicized everywhere.
She said that they want the world to know about "Haiti and the talent we have."
According to Al Jazeera, in February, Haiti's team beat Chile 2-1 and secured the country's first appearance at a FIFA Women's World Cup.
The team, which is 55th-ranked, will now play in Group D of the tournament alongside England, Denmark and China.
Midfielder Danielle Etienne said that they are "trying to bring back the light to Haiti for sure."
Since Haiti's men's side competed at the 1974 edition in Germany, the women's team will be the first team from the country to play in a senior World Cup.
Captain Nerilia Mondesir had said earlier that Haiti will rely on team spirit and their battling qualities during the World Cup, as per Reuters.
She shared that their greatest strength is their cohesiveness as a team, and that they trust in themselves and do everything together. She noted that even when they lose, they "fight for every blade of grass."
She called her team "battlers," which she feels is "probably our best quality." She said that they battle to the end even when their "opponents are stronger than us on paper."
© 2023 Latin Times. All rights reserved. Do not reproduce without permission.