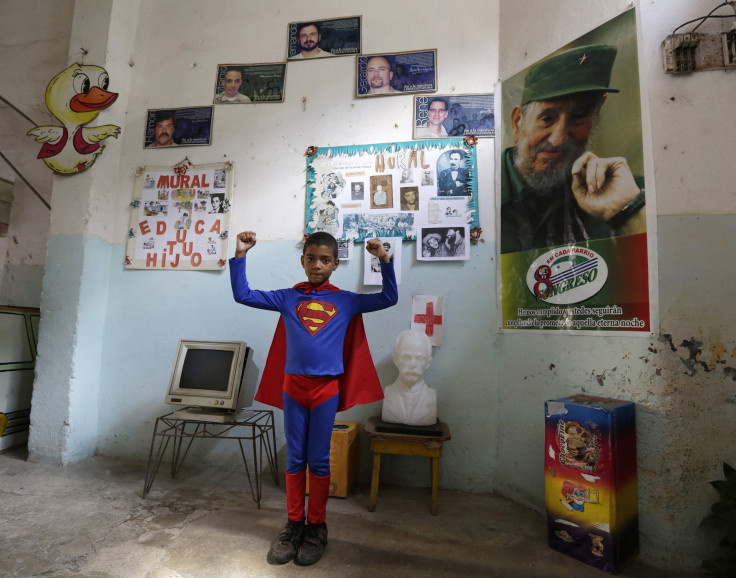 In Cuba's Communist Party newspaper Granma, Halloween serves a shorthand for cultural imperialism. The holiday isn't mentioned in many headlines on the site, but it gets treatment from in government-approved reader's comments. On points out that Italy adopted Haloween after "the arrival of American troops." Another writes that "Halloween is not part of our culture." Yet another describes Halloween as algo ajeno , something strange, inappropriate and not belonging that "it doesn't even have a translation in Spanish."
Yet like candy corn or capitalism, Halloween may prove irresistible and it is creeping into the island's shores. Tourists can find Halloween celebrations at major tourist destinations.
"It is already a tradition in our hotel," reads the description of a Halloween event invite on a Facebook page for a Playa Costa Verde hotel.
As North American traveler wrote to another on Tripadvisor, if you can't find a Halloween event in Cuba, "Bring the party to them!" Bay of Pigs? Maybe the chocolate or gummy kind.
Joking aside, Halloween can get political in Cuba. In 2014, dissident Yoani Sanchez's blog 14 Y Medio celebrated A Halloween Dedicated To Fidel Castro .
In a companion slideshow, 14 Y Medio writer Luz Escobar documented the popular public "demonstration" of youth dressing up.
"No one ordered them to dress up, they weren't convoked by the national television station or the government -- they did it because they like it," Escobar wrote.
Despite some examples of dressing up, I've never found a mention of American-style trick-or-treating -- entire neighborhoods collaborating in a creepy candy bonanza. But Halloween is one of many American imports that could carve out a bigger "marketshare" among Cubans in the coming years as restrictions between the two countries are relaxed.
Halloween Frightens!
That kind of cultural exchange is exciting for dissidents and scary for the government. What if Haloween becomes a major locus of protest, for example?
Fear of change in Cuba's traditions is driving a spike in tourism. That's right, the group of folks who want to find Halloween events in hotels are also dreading globalization. The first part of 2015 saw a spike in booking following the restoration of U.S./Cuban relations, as The Guardian observes.
"There's a real feeling that everyone wants to get there before it changes too much," says Liddy Pleasants, founder of Stubborn Mule Travel.
As for the pro-communist Granma readers fears, they shouldn't be dismissed. Just look at Mexico, where adoption of Halloween is raising concerns that local traditions like Day of The Dead are being crowded out.
"I fear the time will come when sugar skulls start growing pumpkin-like stems and the merging of Halloween and our Día de Muertos will be complete!" Rulo Luna, Matador Network writes in an article titled "Can We Please Just shut Down Halloween In Mexico?"
If it's any consolation, globalization has proved to be a two-way street. Just as Halloween costumes are infiltrating Día de Muertos, chile and tamarind Mexican candy is increasingly finding its way into the bags of American trick-or-treaters.
Should Cubans fear something so ajeno as Halloween? Probably not. Even Fidel Castro has appropriated American exports. Just take Granma , the American-made boat with a Spanglish ship name that he purchased in Mexico before ferreting the first fighters of the Cuban revolution.
© 2023 Latin Times. All rights reserved. Do not reproduce without permission.