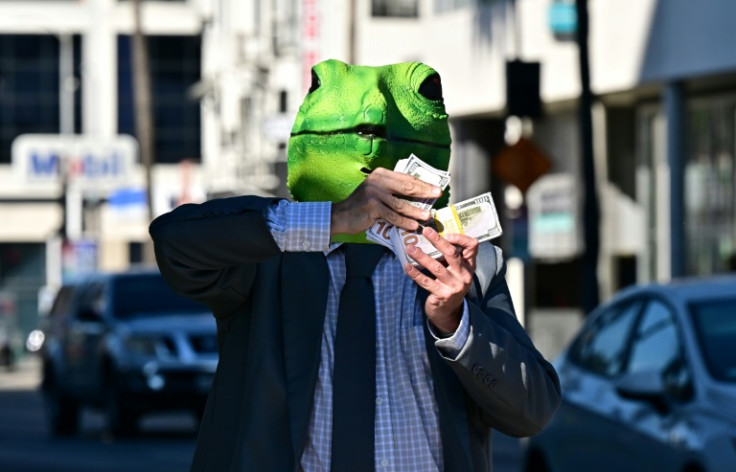 Generic ghosts and vague vampires haunted the Hollywood picket lines this Halloween, as striking actors tried to scare studio bosses by refusing to dress up as any of their famous characters.
With talks still ongoing between the Screen Actors Guild (SAG-AFTRA) and the likes of Netflix and Disney, costumes that could be seen to promote lucrative film figures like Barbie -- or even Oppenheimer -- have been declared off-limits this spooky season.
"Let's use our collective power to send a loud and clear message to our struck employers that we will not promote their content without a fair contract!" said a recent SAG-AFTRA online post.
On Tuesday, actors marching outside Netflix, Sony, Amazon and Paramount's Los Angeles offices had taken that advice to heart, with cats, bats and a dancing frog replacing the usual cast of superhero and sexy villain costumes beloved in the US entertainment capital.
"It would be a little strange when you're protesting these companies but also supporting them," explained actress Sonia Grace, dressed as a schoolgirl.
"Boo, boo to the AMPTP," added Christan Copeland, in a cat costume, referring to the studios' Alliance of Motion Picture and Television Producers.
SAG-AFTRA members walked off film and TV sets in July, over terms including pay and the use of artificial intelligence.
Talks have intensified in recent weeks, with the two sides meeting most days and expressing cautious optimism -- while also warning that they remain far apart on several key issues.
If the strike is not resolved in the next few days, film and television production is unlikely to be able to restart at all this calendar year, as Hollywood annually shuts down over the holiday period.
"I think all of us being here, we've been scaring the studios for the past 110 days," said actress and SAG-AFTRA organizer Mykle McCoslin.
"It's time for them to just negotiate, and give us what we need. Time's up!"
But despite the dire situation, Grace insisted that the strike should not totally prevent actors from dressing up and having some fun this Halloween.
"There's a lot of people that are non-actors that are supporting us, so of course we want to celebrate Halloween with them," she said.
"But we also want to stay strong and hold out for what we feel is a more than fair deal for us."
© 2023 Latin Times. All rights reserved. Do not reproduce without permission.