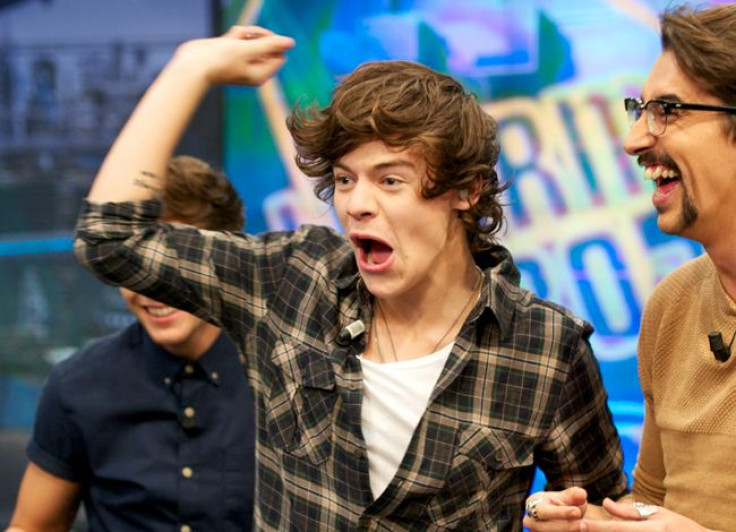 Harry Styles reportedly suffered a wardrobe malfunction and ripped his pants mid-concert in front of his celebrity crush Jennifer Anniston during his show in Los Angeles on Thursday, Jan. 26.
During his show in Los Angeles on Thursday, Jan. 26, while performing the song "Music for a sushi restaurant," Harry Styles, 28, lunged to the ground and made a powerful dance move that ended up ripping his pants apart in front of the crowd, which included his celebrity crush, Jennifer Aniston. After the wardrobe malfunction, Styles made a shocked face at the crowd. The singer then covered the tear with his hands and good-naturedly rolled his eyes at his bandmates, Fox News reported.
'My trousers ripped. I feel I must apologize to a certain few of you right down in the front there. I mean, this is a family show,' he said.
Styles then grabbed a pride flag and tied it around his waist and finished out the performance.
Aniston was far from the only A-list audience member who attended the show. Kylie Jenner, Trevor Noah, and Ellen DeGeneres also attended the concert. "Modern Family" star Julie Bowen shared a video on TikTok showing herself in the crowd during the concert.
The actress noted that Jennifer Aniston and Ellen DeGeneres were both at the concert as well.
Following the incident, Twitter blew up with fan videos of the incident.
"Harry's first ever celebrity crush (jennifer aniston) is in the audience tonight and he F–KING RIPPED HIS PANTS in front of her," one fan wrote on Twitter
"If I were Harry, just thinking about ripping my pants in front of Jennifer Aniston would send me into early retirement," another added on Twitter.
Three years ago, back in 2020, Styles revealed that Aniston was his first celebrity crush during an appearance on "The Ellen DeGeneres Show," Page Six reported.
Meanwhile, last year, in Nov. 2022, Styles was hit in the face with flying objects as he performed in Los Angeles. Styles was hopping around the stage at the Kia Forum and thanking the audience before closing out the show with his song "Kiwi" when some audience threw multiple small, circular objects toward the stage.
Similarly, in a viral video, Styles was seen getting hit in the groin with a bottle that was thrown at the stage during a concert at the United Center in Chicago.
© 2023 Latin Times. All rights reserved. Do not reproduce without permission.