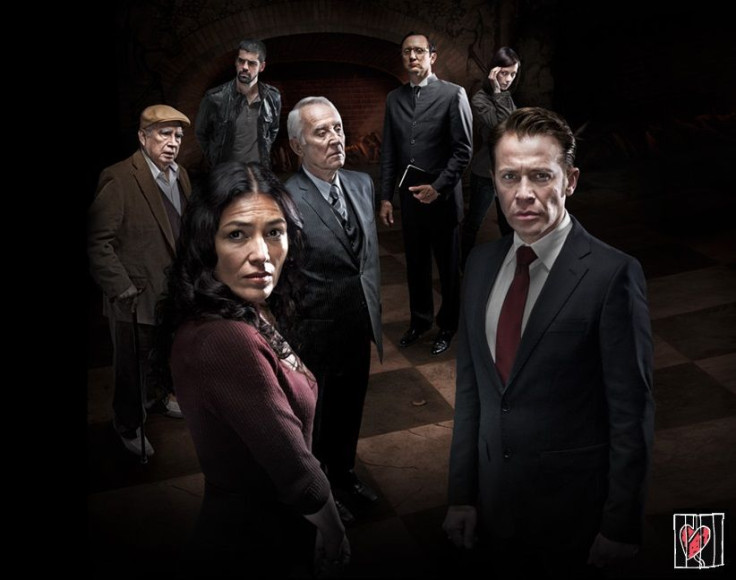 Aída López stills instills fear on those who don't know her. "When they approach me and hear that even my voice is completely different [from the character], then they start to relax," says the actress in an exclusive interview with Latin Times. To be scared of her is justifiable. During the first two seasons of "Capadocia," López played the most vicious, corrupt, and devious jail warden ever portrayed in Latin American television. Her character of "La Negra," a nickname that shouldn't offend anyone in this side of the border, was a landmark in itself as much as the series unique craftmanship was too in our native Mexico. No one had ever seen a series made in Mexico -- the only one produced by HBO so far -- with such high quality.
Some three years later after the second season, "Capadocia" returns with its final installment, with some big surprises in store. One of them, and perhaps the most disturbing, is the character arc that "La Negra" will go through. In the third season, Aída López, as testament of her tremendous thespian abilities, has a 180 degree shift of character. A change so radical that you might end up feeling (gasp!) compassion for her. In the last episode of season two, "La Negra" was incarcerated when we found out her deepest secret: she was a victim of abuse herself. And this season, López will transform in every episode in an unexpected way. But of course, not all evil ever goes away, and in the magnificent finale -- which we won't reveal -- she has the last word, and her character will come full circle. After all, the series did begin with her.
With the return of "Capadocia" to America's TV screens this Friday September 27 on HBO Latino, Latin Times sat down to talk to Aída López about the evolution of her controversial character "La Negra", some of the surprises the series has in store for us, and about the closure that the series -- as an exception to the rule -- will offer.
Latin Times: In this last season, "La Negra" goes from "executioner" to being a victim imprisoned in Capadocia. Did you like this change in your character?
Aída López: Most definitely! Because it represented the opportunity to explore in a deeper way the inner thoughts of La Negra. She is a woman that also knows how to wait, she knows how to spot a chance to do something, take the bull by the horns and don't let it away until things goes her way.
LT: Was this a deserved punishment for "La Negra"? Did this change take away the fun part about playing her?
A.L.: Oh, it was much less fun! And I have to admit some viewers actually were confused by her new behavior at the beginning. Whether she deserved this punishment or not... I think we all wanted to see her on the other side!
LT: I remember you once told me you prepared "La Negra" by taking her out to the streets, seeing how people reacted to your scary gestures... Did you do the same this time around for this change in the role?
A.L.: I didn't took her out to the street so to speak this time. But I can tell you that if in the first two seasons my inspiration was Shakespeare's Richard III, in this one was, without a doubt, Hamlet.
LT: In the first episodes of this season we see you very calm, even a little disconnected from reality. What challenges did you find as an actress this time around?
A.L.:We know how smart La Negra is. By now we know the strenght of her instincts and, I think that the real challenge in the characterization was to play her in a way where she is on full control of her instincts, and her biggest task was: to resist.
LT: Did the reaction of the people on the streets change towards your persona after seeing you much calmer, and without barking and biting this season?
A.L.: Actually... no! Some people, to this date, approach me with lots of precaution, LOL! But once they hear that even my voice is completely different [from the character], then they start to relax, ha, ha.
LT: What can we expect from "Capadocia 3"? We haven't seen the series in almost three years...
A.L.: I guarantee the fans won't be dissapointed and will be greatly surprised. The story is much more sophisticated, brainier, let' say more 'strategic' and a lot less 'instintctive', plus the whole plot revolves around outside, and not inside Capadocia's jail.
LT: The series finale, which we won't reveal, you basically own it! How do you feel "Capadocia" ends to you?
A.L.: Wow, well, I think La Negra has the ending she deserves, don't you think so? It was also the last shot done before the wrap up. I honestly think is the perfect ending to come full circle. Do you remember the first scene of "Capadocia"? The season one begins with an image of La Negra, so it makes sense that it ends with the same character. But of course, in a very different situation! LOL. I can guarantee the fans that the ending is quite surprising.
LT: Tell us about your next project, we know "Autum Sonata" has been a big dream of yours...
A.L.: I have a lots --and beautiful-- work in the Mexican stage. Right now I'm going on tour for the play "Salomé" after a wonderful season in the Capital City. In 2014 I begin a new project that I can't talk about yet. But in May I finally will open "Autumn Sonata" from Ingmar Bergman. You have no idea how much time and how much effort has been deposited in this project! I swore it was done, that it would never happen, but we never gave up and now we have an opening date! May of 2014.
© 2023 Latin Times. All rights reserved. Do not reproduce without permission.