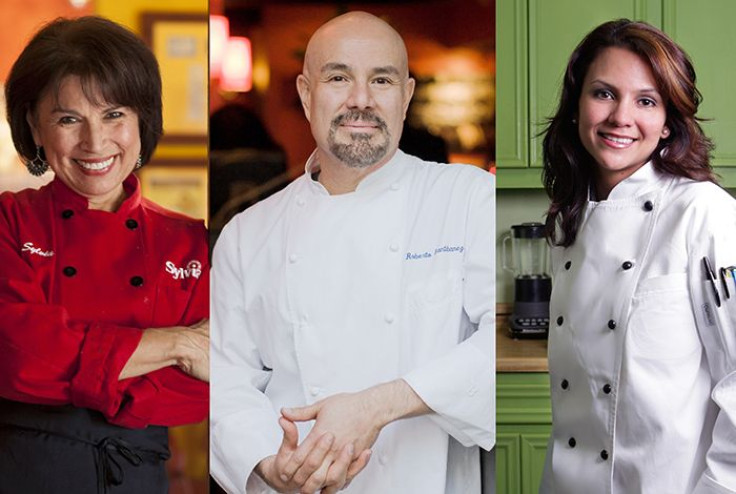 Sunny days are for cooking lighter, healthier versions of our favorite foods, as we take advantage of the season's bounty and delicious fresh produce. For that, three celebrated chefs bring us their version of some of our most beloved Latin dishes. Chef Roberto Santibañez of Fonda restaurants brings us his Pineapple and Cucumber Guacamole, Chef Marcela Pérez of Ole Mexican Foods brings us her Chicken Milanesa, and Chef Sylvia Casares, also known as The Enchilada Queen, brings us her Salsa Verde Enchiladas.
Check out the recipes below.
Pineapple and Cucumber Guacamole
Courtesy of Chef Santibañez at Hay Más Adelante events
Serves 3
Ingredients:
1 (10 to 12 ounce) cucumber, peeled, seeded, and diced (1/2 inch)
½ cup finely diced red onion
2 fresh Serrano or jalapeño chiles, minced, including seeds or more to taste
2 tbs. freshly squeezed lime juice
¾ tbs. fine salt, or 1 ½ tbs. kosher salt
2 large or 4 small ripe Mexican Hass avocados, halved and pitted
½ pineapple, peeled, cored, and diced (1/2 inch)
½ cup chopped cilantro, divided
Directions:
Stir together the cucumber, onion, chiles, lime juice and salt in a large bowl.
Score the flesh in the avocado halves in a crosshatch pattern (not through the skin) with a knife and then scoop it with a spoon into the bowl and gently stir together (do not mash).
Stir in half the cilantro and the pineapple last so the fresh acidity is distinct from the avocado.
Season to taste with additional chile, lime juice and salt.
Transfer the guacamole to a wide dish and sprinkle the remaining cilantro on top.
Tip: Because of the acid in the pineapple, this salsa will not discolor as quickly as other guacamoles. Store it in the refrigerator for up to 2 hours with a piece of plastic wrap pressed against the surface. Let it come to room temperature before you serve it.
Salsa Verde Enchildas
Courtesy of Chef Sylvia Casares at Hay Más Adelante events
Serves 8
Salsa Ingredients:
1 ½ lbs. tomatillos – sliced in half
½ large white onion – diced
½ medium jalapeño (with seeds) – quartered
1 large tomato – cut in quarters
2 ½ cups water
Place all ingredients in a stockpot. Cover and simmer over low heat for 20 minutes.
3 garlic cloves - minced
1 ¼ teaspoon salt
½ bunch cilantro – stems removed
Cut the stems off the cilantro. While tomatoes are simmering, place above ingredients in a food processor and then add tomatillo sauce and blend for about one minute on high. Set the sauce aside to cool.
Enchiladas Ingredients:
16 corn tortillas, spiced or softened
3 cups Pollo Guisado (juice drained)
2 cups Monterrey Jack Cheese (shredded)
1 cup sour cream
9 x 11 inch shallow baking pan
To make each enchilada, add to a flat tortilla the ingredients below and roll, placing seam side down allowing about 1/8 inch between enchiladas to facilitate removing with a spatula after baking. Repeat until all tortillas are filled and rolled.
1 tablespoon Monterrey Jack Cheese (approximately)
2 tablespoons Pollo Guisado filling (approximate measure)
1 dollop sour cream (about 1 tablespoon)
Baking directions:
Place enchiladas in shallow rectangular baking dish. Pour about 2 ounces of tomatillo sauce over each enchilada. Sprinkle remaining Monterrey Jack cheese over enchiladas. Bake at 425 degrees for about 5-7 minutes or until sauce bubbles slightly.
Chicken Milanesa
Courtesy of Chef Marcela Perez at Hay Más Adelante events
Serves 3
Ingredients:
1lb chicken breasts, skinless, boneless
Coconut oil
Marinade for Chicken:
2 ea. orange zest
2 ea. orange juice
2 tbs. parsley
2 tbs. basil
2 tbs. oregano
4 ea. garlic cloves
salt and pepper
Breadcrumb Seasoning:
1 cup corn flakes, bread crumbs or panko (fine)
½ cup Parmesan cheese
2 tbs. basil
2 tbs. parsley
2 tbs. oregano
Directions:
Plastic wrap a cutting board. Place chicken breast 3 inches away from each other. Cover with plastic wrap and pound until they are thinly pounded. Mix all marinade ingredients and in a food container, place the chicken and pour the marinade. Marinade overnight for 4 hours.
Mix all breadcrumb-seasoning ingredients. Transfer chicken from marinade to breadcrumbs and cover both sides. Make sure chicken is completely covered with the breadcrumb mixture.
Sautee each side in coconut oil for 7 minutes and finish in the oven for 10 minutes at 350º.
The chefs did cooking demonstrations on how to prepare these recipes at the Hay Más Adelante events, a national initiative designed to help the Hispanic community live healthier, more secure lives. The initiative launched in New York and is now visiting our Hispanic community in Texas – Houston and San Antonio.
© 2023 Latin Times. All rights reserved. Do not reproduce without permission.