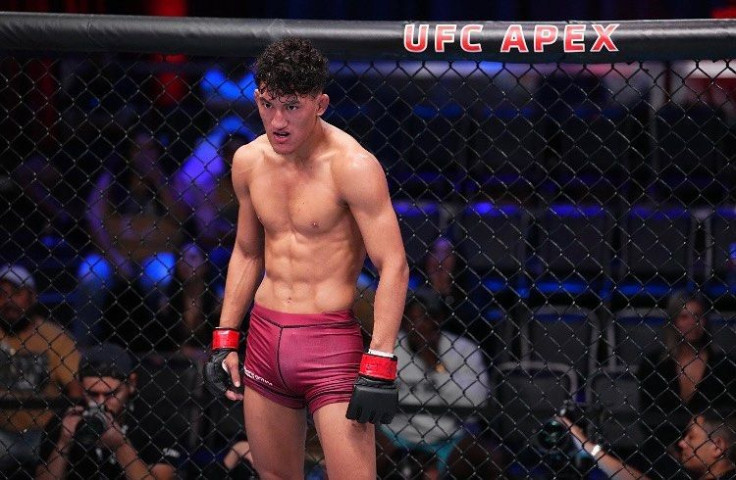 This high school student athlete just etched his name in Ultimate Fighting Championship history.
Raul Rosas Jr., 18 years and 63 days old, became the youngest fighter to ever compete in UFC history Saturday at UFC 282 in Las Vegas, Nevada. The high school senior won his UFC debut with a rear naked choke submission victory in the Bantamweight division over mixed martial arts veteran Jay Perrin, 29, 2:44 into the first round, inside T-mobile Arena.
The previous record was held by Dan Lauzon, who was 18 years and 198 days old at UFC 64 on Oct. 14, 2006.
Winning his debut in impressive fashion Saturday, the fighter of Mexican American decent was one of the Performance of the Night winners, earning a $50,000 bonus.
Rosas Jr., nicknamed "El Niño Problema" left his high school as a senior to become home-schooled, allowing him considerably more time to train, according to Sports Illustrated. Although the transition to being home schooled is paying off, the student athlete claims he misses high school, but recognizes it was a sacrifice he had to make to take his MMA skillset to the next level.
President of the UFC, Dana White, believed Raul Rosas Jr. was ready for the main stage after his unanimous decision victory over Mando Gutierrez in the Contender Series Season 6 finale last Sept. 20, 2022. The Las Vegas, Nevada native was still a minor at the time.
"For a 17-year-old to conduct himself the way he did in this fight, I was blown away by it! Blown away," White said at the Contender Series finale post-fight press conference. "After what I just saw, this kid's ready to fight in the UFC."
"I'm happy with this victory, but I'm not satisfied," says Rosas Jr. "I still have a lot to accomplish. My goal is to get the belt. I have a long way to get there. But I'm living the dream."
© 2023 Latin Times. All rights reserved. Do not reproduce without permission.