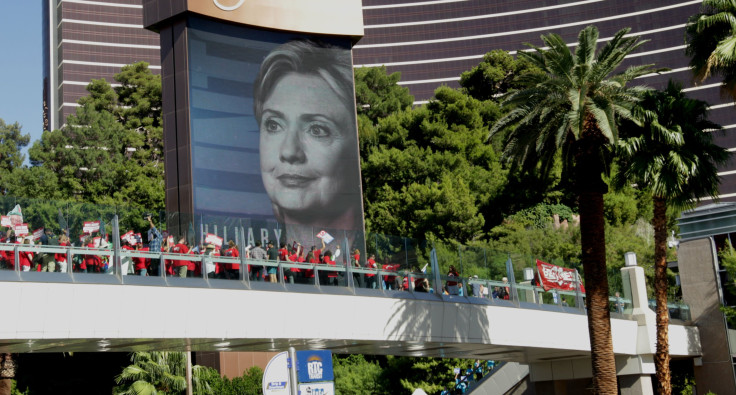 Las Vegas, Nevada — Hillary Clinton supporters took to the Vegas strip early Tuesday morning ahead of the first Democratic debate, next to the Wynn Hotel where she'll go wrinkle-to-wrinkle with Bernie Sanders and three other primary candidates. Clinton's supporters included staffers and local volunteers young and old, Latinas, Anglos and African-Americans, dressed in blue shirts with a large purple "H."
Las Vegas wasn't designed for public demonstrations. Nearly every square inch of the strip is owned by a casino or hotel; private property where protesting could equal trespassing.
When a group of around 20 Hillary supporters attempted to congregate in front of the Wynn, security politely asked them to leave. But when 150 Bernie Sanders from a national nurse's union arrived half an hour later, there was nothing that security could do.
"I can't stop all these people," said a member of the Las Vegas Metro PD, one of three who was called in by security and asked that his name not be used, adding jokingly "I don't want to make the news for getting trampled."
Sanders supporter dressed in red, and carried 4-foot high cut-outs of their candidate dressed as Robin Hood. Sanders has promised to increase taxes on the super rich with the goal of increasing public services the the needy and middle class.
Clinton and Sanders supporters mixed like oil and water, with red and blue shirts bunching together in pockets up and down the sidewalks and promenades around the Wynn. The cacophony of chants created a Bernie-Clinton mashup that could have been created by Skrillex, the EDM equivalent of Celine Dion, who has a semi-permanent show down the strip.
Union Members Split Over Bernie/Clinton
Demonstrations in Las Vegas have benefitted from the muscle of unions. On Monday, Clinton spoke at a protest against the Trump International Hotel organized by a local culinary workers union. Present were members of the American Postal Worker's Union.
READ MORE: Clinton Trolls Trump Hotel In Las Vegas
Sanders has met with that same union in the past but turned down a chance to speak alongside Clinton. APWU member Gary Kroepher of Ohio told the Latin Times on Monday that Bernie's he missed a chance to show solidarity.
"If he was invited and he didn't come, he missed an opportunity," Kroepher said, adding that he supported Clinton because he believes she has a better chance of beating the eventual Republican nominee. "Bernie Sanders is stronger on labor, but I don't think that he can win in the general."
Sanders' challenge during the debate would be summed up in two parts. First, that he needs to show his viability as a national candidate.
Second, he must show that he can attract minority voters. As we've written before, Hillary Clinton has the overwhelming support of Latinos in national polls. Latina volunteers and organizers were out en masse on Wednesday, and Clinton has already secured top Latino endorsements.
"We need to elect someone who is actually interested in the working class," said Marie Hymen, a Hispanic Las Vegas union nurse. "I heard about him long before he ran for president" she added, saying that
Latino and Latina Sanders supporters do exist. But can Bernie win more of them?
His popularity with union workers could be one way to translate his populist rhetoric into popular support. In the meantime, Clinton's record and name recognition is strong among Latino voters and inspiring action among more Hispanics, especially Latinas, early in the race.
© 2023 Latin Times. All rights reserved. Do not reproduce without permission.