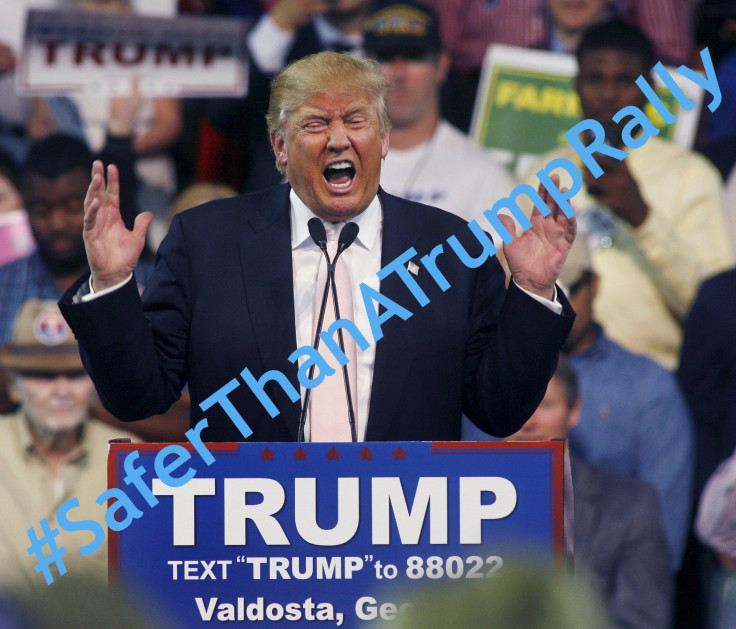 Before #SaferThanATrumpRally trended on Monday, the Twitter hashtag, violence at Trump campaign events was already an emerging non-fiction genre. Our own story of a Latina protester being assaulted blew up in September. Since then, a growing number of racist and violent incidents have occurred, and a number of Trump supporters have been charged with assault. Trump himself has not been charged with incitement to violence, despite regularly calling on his supporters and staff to punch protesters and remove them from his events with greater force and expediency.
Trump protesters have also created unsafe conditions around the GOP frontrunner's rallies. Over the weekend, anti-Trump protesters blocked a busy highway leading to a campaign stop in Arizona, delaying traffic and risking rear-ending and accidents. Last week, Trump canceled a Chicago rally aftera a large group of protesters assembled outside the venue. Between Trump's vehement detractors and aggressive defenders, there are more and more places and activities that are safer than a Trump rally.
The funniest memes from #SaferThanATrumpRally lean towards hyperbole. Some also make subtle references to Trump's own rhetoric and political positions. For example, one #SaferThanATrumpRally tweet mentions the Tiananmen Square, a 1989 student protest against the Chinese government that was brutally put down. Trump has referred to the protest as a "riot." Trump has praised the "strength" of the Chinese response in Tiananmen, though told CNN "That doesn't mean I was endorsing that."
Without further ado, we bring to you the top 7 memes of hashtag "Safer Than A Donald Trump Rally."
Protesting for Freedom of Assembly in China.
Tea with Darth Vader
A grenade wedding proposal.
(This Erik guy really stole the show). This bird
Hiding in the closet
"What I learned today."
© 2023 Latin Times. All rights reserved. Do not reproduce without permission.