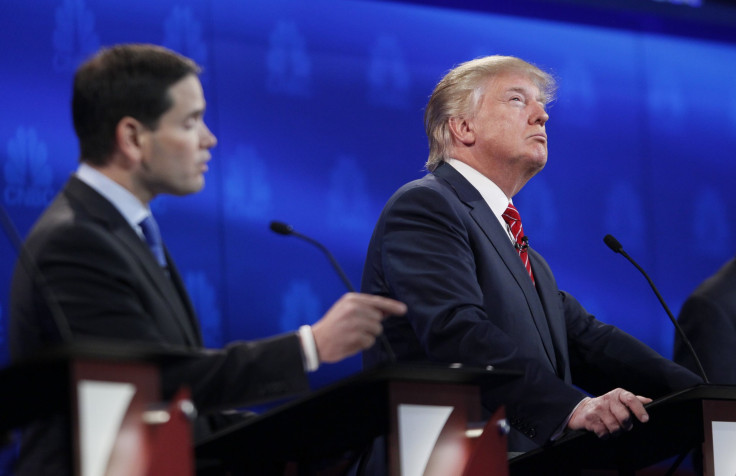 Donald Trump's immigration plan may be the toughest and most restrictionist in the GOP presidential field, "It's apparent that he never read it," Heather Mac Donald, a fellow at the conservative Manhattan Institute tells Politico. If you want to know what Trump's policies are on paper, take a look at his website. There he proposes to cut or curb every labor visa under the sun, including those that his companies have relied on heavily such as the J-1 (student) and H1-B (temporary worker) visas.
But what are the immigration policies in Trump's head? In public, Trump rarely rolls out the details. Reading the headlines, one might conclude that Trump is indecisive, or simply following poll numbers. Ezra Klein has speculated that Trump may be lying about his policies, or toning them down for a general audience. The truth is that Trump has no idea what he's doing, with the exception of his proposal to build a contiguous wall along the U.S.-Mexico border. Everything else is a lark.
We know this in part because of his performance in the March 3 Republican debate, in which he changed his position on H1-B visas or, to put it another way, he couldn't remember what it was.
"I'm changing," Trump told the Fox News moderators (Not "I'm changing it," ). "We need highly-skilled people in this country and if we can't do it, we'll get them in. But - but - and we do need. In Silicon Valley, we absolutely have to have."
Once the debate concluded, Trump's team amended his policy to reflect what he said. In other words, Trump has revealed his true nature, a candidate whose policies flow through the porous filter of his own mind rather. It's fresh. It's not totally poll tested. And it's completely impossible to keep track of. That makes Trump a moving target for pro-immigrant opponents. It also makes him a wonky ally for restrictionists. Here's what Mark Krikorian, executive director of the Center for Immigration Studies, a group that argues for more restrictive immigration policies, told Politico.
"He doesn't know enough about the subject and won't listen to his own staffers to be able to distill a clear, coherent message," he said. "In other words, I'm not sure he's so much flip-flopping as just making this stuff off the top of his head."
To be fair, Trump isn't the only candidate without his policies on the tip of his tongue. We recently pointed out a similar mistake by Democratic presidential candidate Bernie Sanders, who missed so pretty obvious cues to speak about his immigration policy in the recent Univision/WaPo debate in Miami. As usual, Trump's style isn't original, it's just an extremely intense version of what we've seen before.
© 2023 Latin Times. All rights reserved. Do not reproduce without permission.