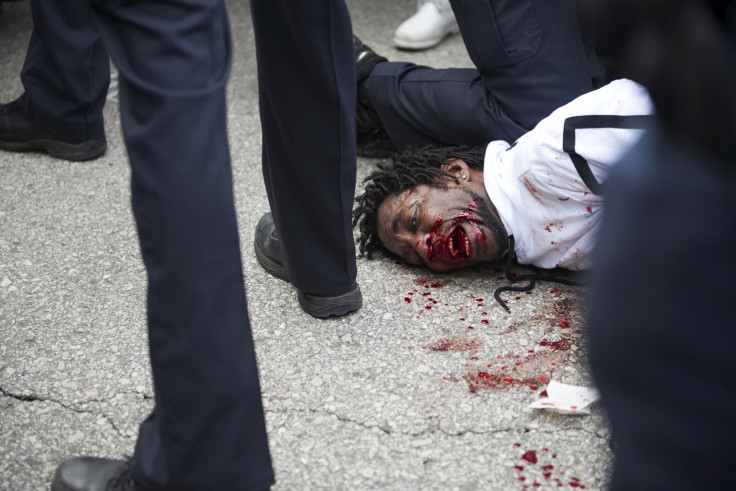 Paul Ryan says that Donald Trump could do more to reduce the incidence of violence at his presidential campaign events, the Republican Speaker of the House told a radio station in his home state of Wisconsin this week. Ryan, who has been critical of Trump in the past, said that candidates need to "take responsibility for the environment at their events." Ryan also acknowledged what he described as an "effort by some on the left to shut down [Trump's rallies."
"We should never condone that. We have a long history of peaceful protest, but creating this kind of drama isn't good for anybody, and it's unacceptable," Ryan told WRJN, according to Politico.
"At the same time [...] There is never an excuse for condoning violence, or even a culture that presupposes it."
Trump has done little to interfere with his supporters assaulting non-violent (though disruptive) protesters at his rallies. In fact, he's encouraged his supporters to act violently towards dissenters in his crowds. Rival GOP candidate Ohio Gov. John Kasich has compiled a list of Donald Trump rally violence. Slate and other outlets are making their own lists. Trump's statements haven't come to the point of criminal incitement to violence, but he could be sued in civil court for some of the injuries sustained at his rallies, according to an expert quoted by the Washington Post.
"My fellow Republicans are running against me," Trump told CNN when questioned about the events saying that "There's been nobody injured at my rallies: zero, zero. You're making it sound like everybody's broken down and injured. Give me a break."
Meanwhile, Trump's seemingly compulsive lying streak has continued on the campaign trail, ranging from the definition of unemployment to the origin of steaks. As Ryan pointed out, Trump and his supporters may have also been a victims of electoral anger, after an anti-Trump protest shut down a campaign stop. Trump's accumulation of controversies are so long it seems like we need regular updates. Here's a short list from this week.
1) Blatant Dishonesty: Politicians lie. It's a fact of life. But Trump appears to be in a league of his own. Politico has compiled a list of around 50 gross exaggerations and outright lies just in the past week. Here's the 51st: Trump claims that he doesn't condone violence at his rallies, despite advocating violence against protesters on numerous occasions.
2) Supporter #1: Go To Auschwitz
3) Supporter #2: Heil Hitler Salute Was Ironic
4) Supporter #3: Punches Protester In the Face
5) Alleged assault on Breitbart Reporter leads to resignations.
6) Protesters silenced Trump momentarily by shutting down a campaign event.
© 2023 Latin Times. All rights reserved. Do not reproduce without permission.