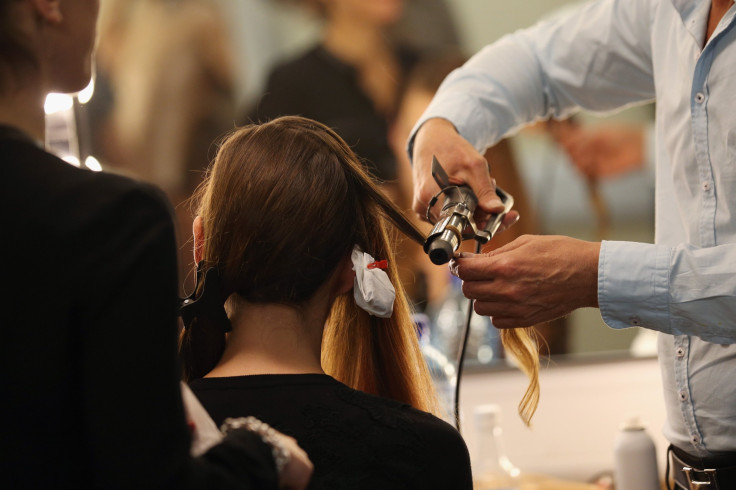 Latinas all around the country are taking a nod to celebrate their Hispanic background during Hispanic Heritage Month. Even though the period is almost over, la fiesta is endless.
Although this is a great occasion to celebrate what we are and where we come from, one month really isn't enough time to enjoy the richness and diversity of Hispanic culture.
Everything about Spanish speakers is different, not only from country to country, but within the same nation it's possible to find big differences like skin color, eye color and hair type. The hair-itage comes in all textures – curly, wavy, thick, and straight, to name a few.
All hair types should be treated differently to make sure they're getting the right nutrients. Learn below quick how-tos from Garnier and L'Oréal Paris hair experts on how to manage these different hair types, along with the best product recommendations from both brands.
Do's and Don'ts from Celebrity Hairstylist and Brand Ambassador Mara Roszak: "The biggest complaint with straight hair, is that it tends to fall flat. To try and avoid this, I recommend using a volumizing shampoo and conditioner to make the hair look thicker and much more volumized. Volumizing products tend to not be moisturizing, so when styling use an oil to apply to the ends and rub the remainder of the product to the mid-lengths of hair to add shine."
· Don't apply a non-volumizing conditioner directly to the roots because it will make hair fall flat
· Don't get a choppy haircut
· Do get a haircut with subtle and blended in layers to add more movement
· Do use a volumizing shampoo and conditioner to add fullness and thickness to hair
· Do rough dry hair to add volume – i.e. flip hair upside down and use your fingers to lift the roots
Best Product Recommendations
L'Oréal Paris Hair Expert Volume Filler Shampoo & Conditioner
This duo containing Filloxane helps to generate a thicker feel and infuse lasting volume over time.
L'Oréal Paris Hair Expert Total Repair 5 Extraordinary Oil (All Hair Types)
This oil treatment is powered by Nutri-Oils, a blend of coconut oil, soybean oil, sunflower oil and silicone, and works to fight split ends and provide extraordinary softness and shine. The weightless formula instantly absorbs into hair, making it ideal for all hair types for a multitude of uses and all hair types.
Tips from Celebrity Hairstylist and Brand Ambassador Mara Roszak: "When it comes to wavy hair it's important to use hydrating products that won't weigh it down. I love the new EverPure Moisture from L'Oréal Paris because it leaves hair hydrated and soft without stripping the color. I also recommend using a hair mask once every other week. A great haircut is key to enhancing hair's natural waves and texture. Have your stylist cut shorter blended layers to add fullness and movement. Good general rule is that the layer should not be shorter than the chin (depending on hair length)."
L'Oréal Paris EverPure Moisture
Deeply replenishes moisture and gives hair lush shine with ingredients such as rosemary and Indian lilac. EverPure Moisture won't strip color and leaves hair hydrated and soft.
L'Oréal Paris Hair Expert Total Repair Extreme Emergency Recovery Mask
This rich healing treatment helps to repair the hair fiber of extremely damaged, over-processed hair in need of an urgent recovery. The rinse-out mask rapidly repairs the hair fiber, leaving hair soft, supple and reconstructed. After using the shampoo and conditioner, apply the mask and leave on for 3-5 minutes before rinsing.
Tips from Celebrity Hairstylist and Brand Ambassador Millie Morales: "Women are now embracing their natural curls more and we're seeing these looks on a daily basis. Today's curly trend (which I love) requires a lot of maintenance and care because this hair type tends to be drier. A few of my tips for curly hair maintenance are as follows:"
Wash your hair once or twice a week with products designated for curly hair. One of my favorites is the Garnier Fructis Curl Nourish Shampoo and Conditioner.
Once washed, I recommend combing the hair while it's still wet. Use a brush that contains natural and artificial bristles - this will make the combing process less "painful" and properly untangle the strands.
Moisturize your hair once a week with a hair mask, that has preferably natural ingredients like the Garnier Whole Blends Nourishing Mask with Avocado Oil & Shea Butter Extracts which nourishes curly hair and gives it an impressive shine. It contains avocado and shea butter extracts which gives it its delicious aroma. It's recommended to use the hair mask along with the shampoo and conditioner from the line for best results.
Avoid products containing alcohol, mousse, gel, hairspray or try to minimize their use as much as possible. These products tend to dry the hair more often .
Garnier Fructis Triple Nutrition Curl Nourish Shampoo and Conditioner
This sulfate-free haircare system creates a supple lather to provide a gentle cleanse that doesn't strip hair's natural moisture. Triple Nutrition Curl Nourish Shampoo provides the care of triple nourishment for stronger hair with well-defined, smoother curls. Key ingredients include Jojoba, Coconut, and Macadamia Oils.
Garnier Whole Blends Nourishing Mask with Avocado Oil & Shea Butter Extracts
This luscious and rich creamy formula blooms with a comforting fragrance of avocado oil and shea butter, bringing to life their wholesome care that deeply replenishes hair with healthy, supple bounce and shine. After shampooing with their Nourishing shampoo, apply a generous amount of treatment to hair. Gently work through hair, making sure to cover ends. Wait 3 minutes, then rinse thoroughly.
Tips from Celebrity Hairstylist and Brand Ambassador Millie Morales:
For thick hair, I recommend going for a very layered haircut to minimize the volume.
It's important to wash hair well 2-3 times a week because thick hair tends to hold onto dirt and sweat.
Wash hair with products that will leave hair silky and shiny, but will not take away from hair's natural volume like the Garnier Fructis Sleek and Shine Shampoo and Conditioner.
Before using a blow dryer or hot tools, always apply a heat protectant spray like Garnier Fructis Smooth Blow Dry Anti-Frizz Cream to protect hair from heat damage and breakage that leads to split ends and frizzy hair.
Garnier Fructis Style Smooth Blow-Dry
Pump up the volume with Garnier Fructis Style Smooth Blow-Dry smoothing cream. This unique formula combines Argan Oil and other conditioning agents to help glide brushes effortlessly through hair, for a smooth, friction-free blowout. Infused with lost-lasting polymers, Fructis Style Smooth Blow-Dry provides 24-hour shape control, giving you luscious locks all day long.
Garnier Fructis Sleek & Shine Shampoo & Conditioner
Achieve 10x smoother hair, even in 97% humidity. Sleek & Shine is powered by advanced fruit science, using argan oil from Morocco and apricot. The unique formulas penetrate into frizzy, dry, unruly locks, helping to smooth the cuticle while strengthening hair to its core. Hair is strong, touchably soft, and frizz-free for up to 48 hours, giving you the ultimate sleek strands .
© 2023 Latin Times. All rights reserved. Do not reproduce without permission.