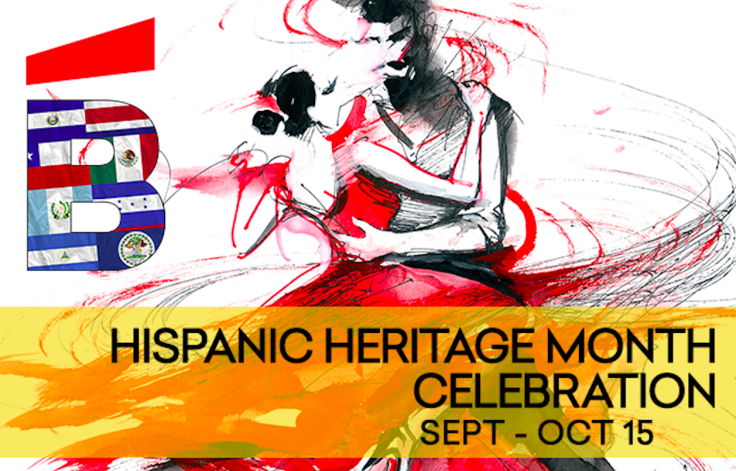 It's time to celebrate Hispanic Heritage Month again! It has been 29 years since Congress established September 15 to October 15 as the month to commemorate the contributions of Americans with Spanish and Latin American ancestry to the country's history.
Even though this is a great occasion to celebrate what we are and where we come from, one month really isn't enough time to enjoy the richness and diversity of Hispanic culture, so here's a list of things you can do to start the celebration right now!
The Library of Congress, National Archives and Records Administration, National Endowment for the Humanities, National Gallery of Art, National Park Service, Smithsonian Institution and United States Holocaust Memorial Museum join in paying tribute to the generations of Hispanic Americans who have positively influenced and enriched our nation and society.
You can also commemorate the Hispanic Heritage Month with the Ballet Hispánico School of Dance classes.
Find below events, performances, and exhibitions.
This weekend-long celebration of Mayan culture will feature hands-on activities, traditional textile demonstrations and the screening of several short films.
Latinidad: Looking Into Latina Women's American Experience
This all-day festival will showcase how Latina women have contributed to American history. It will include Latin hip-hop DJs, hip-hop dance instructions, hands-on activities and a Cuban cooking demonstration and book signing by chef Ana Sofia Pelaez.
Macy's Celebrates Hispanic Heritage Month With Gaby Espino
Macy's is celebrating National Hispanic Heritage Month with an "in conversation" with the popular telenovela star, where she'll discuss her sense of style, her career, as well as her cultural background.
Click here to find an event with Gaby Espino near you.
Celebrate Hispanic Heritage Month from September 15 to October 15, 2017 with free events, performances, exhibitions and dance lessons for children and adults. Events include a Salsa Extravaganza, an "A la Calle" Block Party, an Instituto Coreográfico dance showing and discussion, an intimate Tablao flamenco performance, and an exhibition of visual artwork at the Ballet Hispánico's headquarters, The Arnhold Center, in New York.
"No other Latino organization can celebrate Hispanic Heritage Month like Ballet Hispánico, because we will do it with dance!" said Eduardo Vilaro, Artistic Director and CEO of Ballet Hispánico. "We've been bringing individuals and communities together to celebrate and explore Latino cultures and the shared human experience through dance for more than 45 years. Our HispanicHeritage Month events and activities will bring the celebration to the Upper West Side neighborhood, which has been our home from the very beginning of Ballet Hispánico."
Friday, September 15
The celebration begins on Friday, September 15, with the PBS broadcast of Lincoln Center at the Movies presents Ballet Hispánico at 9 pm. The program opens with a modern take on Bizet's passionate opera featuring physically charged and sensual choreography by Spaniard Gustavo Ramírez Sansano.
The second part of the program, Club Havana, is a virtuosic reimagining of a sizzling nightclub by Cuban-born choreographer Pedro Ruiz. Originally filmed as part of the Lincoln Center at the Movies: Great American Dance series, the PBS broadcast will draw the largest national audience in Ballet Hispánico's history.
Saturday, September 23
On Saturday, September 23 from 5:30-7:30pm, Ballet Hispánico will host a Salsa Extravaganza, giving New Yorkers the opportunity to revel in the music and dances of Latino cultures.This free, two-hour event will offer lessons for all ages in three dance genres: salsa, merengue and bachata, followed by a celebratory dance for all, with refreshments. Both experienced dancers and first-timers are welcome to join in this joyous celebration.
"A la Calle" Block Party on Sunday, October 1 from 2-6 pm, a four-hour celebration of Latino dance, music, art, food and community, will take place on West 89th Street (between Amsterdam and Columbus Avenues), Ballet Hispánico's home for more than 45 years. The event will include dance performances by our internationally renowned Company, School of Dance students, and BHdos as well as a musical performance by Los Hacheros, free half-hour dance classes for adults and children, and a variety of activities for children and families.
Thursday, October 5
This year's Instituto Coreográfico on October 5 at 7 pm will feature the work of acclaimed Spanish choreographer Carlos Pons Guerra. Moderated by Ballet Hispánico Artistic Director & CEO Eduardo Vilaro, the program will include a showing by Guerra, as well as a lively discussion with the choreographer and the dancers.
Saturday, October 14​
On Saturday, October 14 from 8-10 pm, Ballet Hispánico will offer the inaugural performance of the Ballet Hispánico Tablao series. Headlined by internationally celebrated dancer Nelida Tirado, thistwo-hour intimate performance will bring the Flamenco nightclub scene to the intimate Penthouse Studio of Ballet Hispánico. Tickets are $20 and there will be refreshments.
Throughout the month, Ballet Hispánico will curate an on-going exhibition of visual artwork from celebrated and emerging artists on the first floor of the West 89th Street carriage houses, transforming our home into a beautiful, emotionally moving gallery.
Close the end of Hispanic Heritage month by going to the New York Latino Film Festival (NYLFF) and supporting the work and creativity of Latino filmmakers. The festival will showcase features, shorts, documentaries and experimental films for the U.S. Latino community.
Until September 17 you can enjoy a TV marathon in Spanish (or English) called FreePass Latino. You'll be able to access all of the premium content from channels such as STARZ with its acclaimed series "Outlander" and "Power;" HBO's new comedy special by George Lopez called "The Wall;" hundreds of Latin American blockbusters such as the Mexican comedy "Rudo y Cursi," starring Diego Luna and Gael García Bernal; Oscar-winning film "El Secreto de sus Ojos" from Argentina, starring Ricardo Darín; as well as hundreds of recent Hollywood films including Patricia Riggen-directed "Miracles from Heaven," featuring Eugenio Derbez.
All episodes from Gabriel "Fluffy" Iglesias' show "Fluffy's Food Adventures" will also be available. All of this entertainment will be at no additional cost to Xfinity users.
Celebrate fiestas patrias
Hispanic Heritage month coincides with the independence celebrations of many Latin American countries: Costa Rica, El Salvador, Honduras, Guatemala, Nicaragua, Mexico and Chile.
It doesn't matter where you're from, the significance of the independence movements across Latin America is part of shared history.
There will be many fun events across the country for you to choose from. Here are a few:
Enjoy the last round of world cup qualifiers
From October 5 to 10 , countries will play against each other the last round of the main qualifying matches to the world's biggest soccer competition - FIFA's 2018 World Cup in Russia. Here are the dates of the games that the teams from Spain and Latin America will play so you can binge-watch multiple matches and root for your country and favorite national teams:
Oct. 5 : Argentina vs. Peru, Bolivia vs. Brazil, Colombia vs. Paraguay, Venezuela vs. Uruguay, Chile vs. Ecuador
Oct. 6 : USA vs Panama, Mexico vs. Trinidad y Tobago, Costa Rica vs. Honduras, Spain vs. Albania
Oct. 10 : Honduras vs. Mexico, Ecuador vs. Argentina, Uruguay vs. Bolivia, Paraguay vs. Venezuela, Brazil vs. Chile, Perú vs. Colombia
Stream the best of Latin American cinema with Pantaya
If you love movies, check out new streaming platform PANTAYA. The service has a huge selection of Spanish-language blockbusters and critically acclaimed films from Latin America and Hollywood.
Most of them are PANTAYA exclusives that you won't be able to find anywhere else. What's more is that many movies will be available on this platform the same day that they premiere in Latin America.
Check out some cool Latino dance moves on "Mira Quien Baila"
From Salsa to Tango, music and dance are a big part of Latino culture. Some Latinos are more competitive on the dance floor than others, but they can definitely appreciate when someone else has all the right moves. And when you add some celebrity power, even better! Check out some "dance fever" as the hit dance competition "Mira Quién Baila" returns to Univision on Sunday, September 17 at 8 p.m.
Go to concerts featuring the hottest Latino artists
This has been a great year for some of the top Latino performers and many of them are on tour across the country. Take the opportunity to catch some of the hottest stars live! Here are some concerts that will coincide with Hispanic Heritage month:
© 2023 Latin Times. All rights reserved. Do not reproduce without permission.