A 35-year-old woman died from multiple gunshot wounds fired by his former boyfriend. The incident happened last Jan. 6 in front of the former couple's three-year-old child at the Pacoima neighborhood in Los Angeles.
The victim was identified as Karen Ruiz who was shot with a semi-automatic handgun by his former partner. The man was identified as Herbert Nixon Flores, KIRO7 reported.
Ruiz died not long after she was shot multiple times at the 9000 block of Bartee Avenue. According to the Los Angeles Police Department, officers were dispatched to the scene after receiving a call of a shooting that occurred in the said area.
When the police responded, they found the Hispanic woman sustaining multiple gunshot wounds. Paramedics from the Los Angeles Fire Department also arrived and pronounced the victim deceased.
In surveillance footage posted on YouTube released by the LAPD, Ruiz could be seen running when a sedan parked and blocked her vehicle. Recognizing it was Flores, she ran towards the house with the man giving chase.
Flores fired multiple shots at Ruiz with voices (presumably in Spanish) panicking and the toddler crying after the shooting. The man ran back to his car and eventually fled the scene. Flores is considered armed and dangerous and the public is urged not to confront or attempt to apprehend him.
An LA detective told NBC that the couple had recently separated and added there was a history of domestic violence. Ruiz also allegedly had a restraining order against Flores.
At the time of the incident, the toddler was in the car with Ruiz dropping her off at a babysitter, KNBC reported.
Police are seeking help from the public who may know about the incident. Anyone with information can contact the Valley Bureau Homicide Detectives, Detective Sharon Kim at 818-374-9550.
For those who wish to stay anonymous, it would be best to call the L.A. Regional Crime Stoppers at 1-800-222-TIPS (800-222-8477) or do it online via www.lacrimestoppers.org.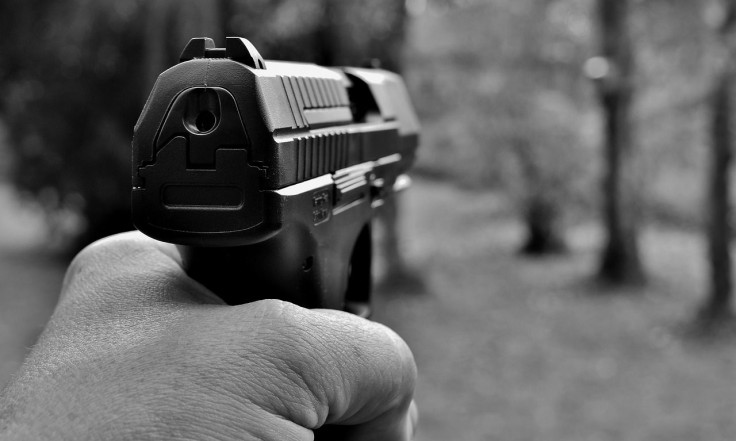 © 2023 Latin Times. All rights reserved. Do not reproduce without permission.