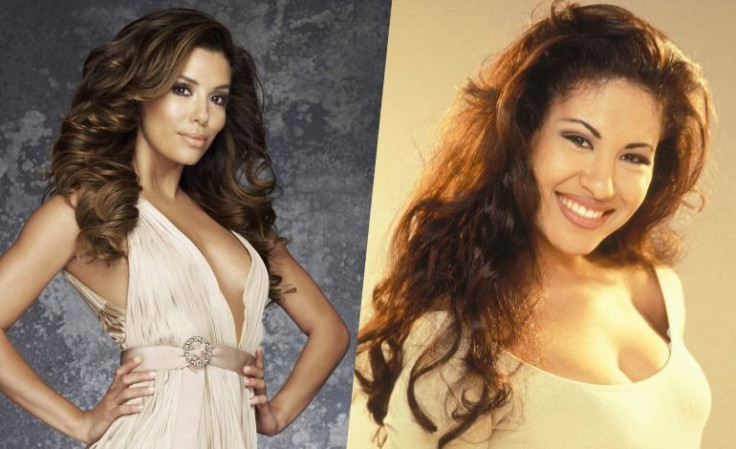 With nearly 20 years in the biz as actress, activist, producer and businesswoman, Eva Longoria will be recognized with her very on star on Hollywood's Walk of Fame.
The Mexican-American star was announced as one of the 34 public figures to receive a star in 2017. The late and legendary Selena Quintanilla will also receive her star on the renowned strip, posthumously, 22 years after her death. For Longoria, being an honoree with the Queen of Tejano hits home. Literally, as the two powerful stars are chicanas from Corpus Christi, Texas.
Following the great news that was released this week by the Walk of Fame Selection Committee of the Hollywood Chamber of Commerce, Longoria talked to Latin Times about the honor.
"OMG I'm so honored to be receiving a star on the Hollywood Walk of Fame! I remember moving to Hollywood nearly 20 years ago and going straight to the iconic street and look at the stars and saying 'I wanna have a star on this street one day!'" she said to Latin Times exclusively.
"I remember it so clear, I was on the corner of La Brea and Hollywood Blvd. Thank you to the Hollywood Chamber of Commerce for making this dream of mine come true! What makes this even sweeter is that I stand side by side with my idol Selena Quintanilla! Corpus girls representing!" she excitedly stated.
The "Devious Maids" star also penned her feelings on social media, owing her star on the strip to the "Bidi Bidi Bom Bom" songstress and thanking her for showing her how to follow her dreams. The emotional message can be read below:
I could never have dreamed that one day I would receive a star on the Hollywood Walk of Fame. But even more ironic is that the same year I receive my star, so does my idol, my inspiration, my fellow Tejana, my fellow Corpus Christi native, Selena Quintanilla. She was the reason I even dared to dream that a better life was possible. And that that life didn't have to distance you from where you came from. So many people become famous and leave a place without ever crediting it with the role it played in shaping their lives. Selena was proud of being from Corpus Christi, Texas. And that made me proud to be from Corpus. She blazed the way for all of us and I will be forever grateful to her for not only that but for the pure joy I felt when I got to see her perform. Her smile, her charisma, her beauty put every single person who watched her under a spell. Thank you Selena. I know I will receive my star on the Walk of Fame because you dared to dream it first.
© 2023 Latin Times. All rights reserved. Do not reproduce without permission.