A 400-pound alligator, nicknamed the "Dollar Store Gator" by residents in Texas, was relocated on Tuesday after lurking around a creek near a dollar store in Port Aransas for an unusually long period of time.
Reports suggest that the gator grew so comfortable around humans, that it often walked up to strangers near the creek! The gator was also often subjected to cruelty – throwing glass and rocks.
"He's been showing up on and off for months to the point where half the island was feeding him, and the other half was throwing things at him like glass, rocks and other items," said Richard Gleason, the city's animal control officer, to a media outlet. "No matter what though, he just wasn't leaving," he added.
The officer revealed that his team was often alerted about the harassment meted out to the reptile, which made it imperative for the relocation to happen to another adventure part in Beaumont. "It was quite a catch," said Gleason. "It took about four or five of us to get him on the truck. He even peeled my skin a bit from sliding down my arm. He was ridiculously strong," he added.
The repositioning of the alligator was conducted by licensed trappers, who caught hold of the alligator on Monday, and transported it to Gator Country Adventure Park in Beaumont on Tuesday.
The whole process was photographed and shared by the animal rescue group on social media, including the one where the gator can be seen being gently tucked away to the back of a truck. Clearly, the group had developed a special connection with the gator that stuck around at the port for longer than expected. "Named him 'Fin' after one of our favorite restaurants there!" the group wrote.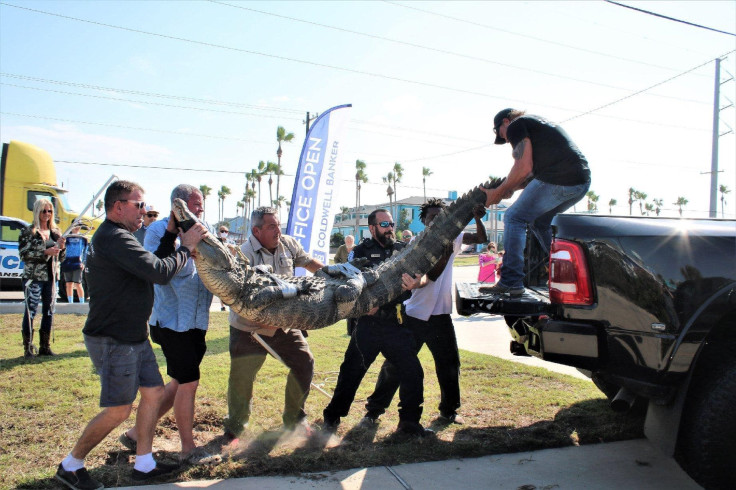 © 2023 Latin Times. All rights reserved. Do not reproduce without permission.