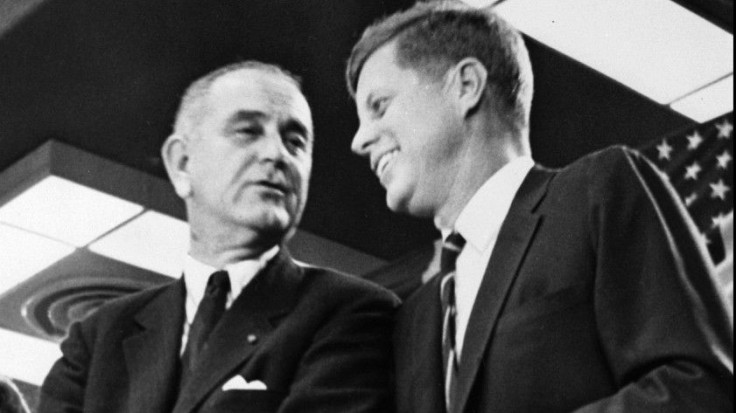 This month 50 years ago, the U.S. passed its most sweeping immigration reform, the Immigration And Nationality Act Of 1965. NPR's Tom Gjelten has written an engaging and well-researched chronicle of the Act's passage as well as a cross-section of captivating immigrant stories. Whether your family came to America from Bolivia, Norway or South Korea, whether they were shackled on a slave ship, or walked freely off the decks the Mayflower, his book A Nation of Nations will provide a compelling and informative read. Below, we've published an excerpt from the chapter that deals specifically with the 1965 reform. Note that headers and additional formatting have been changed to make the story easier to read on mobile.
The Immigration and Nationality Act of 1965
The Immigration and Nationality Act of 1965—as Hart-Celler was formally known—technically a series of amendments to the 1952 McCarran-Walter Act, was approved by both chambers of Congress on September 30, 1965, and sent to the president for his signature.
Perhaps the most important factor explaining its relatively easy passage was that both the immigration reformers and the immigration restrictionists managed to convince themselves and each other that the legislation would not change the immigration picture all that much.
In future years, the advocates of tighter immigration controls would look back at the passage of the 1965 Act as a major cause of the immigration wave that followed, with millions of Asians, Africans, Middle Easterners, and Latin Americans moving to the United States. The administration officials who insisted that no such inflow would occur were proved wrong, but they were not alone.
Ironically, it was Congressman Michael Feighan, a long- time supporter of the national origin quotas and a close ally of the immigration restrictionists, who was most responsible for opening the United States to more non-European foreigners.
Feighan's elevation of the priority given to family unification visas, including his insistence that nearly a quarter of immigrant visas go to brothers and sisters of U.S. citizens, proved to be a decisive element in the expanded immigrant flow. His plan to come up with "a naturally operating national-origins system" backfired.
Fifty years later, about two thirds of all immigrants entering the United States legally were family members of U.S. citizens or permanent residents, and the 1965 law was even known in some quarters as "the brothers and sisters act."
President Lyndon Baines Johnson Signs The Bill
President Johnson signed the Immigration Act on October 3, 1965, in an elaborate ceremony on Liberty Island in New York Harbor, in a scene almost exactly as he had envisioned.
Ellis Island, where millions of new immigrants had been processed upon their arrival in the United States, was rejected as a site for the ceremony because it did not have proper landing facilities and was not then in good condition. But Liberty Island was a more picturesque location, with open terraces overlooking the water.
An ornate wooden desk was set near the base of the Statue of Liberty. October 3 was a beautiful autumn day, with blue skies and a blustery wind, and hundreds of invited guests and interested onlookers gathered around, some of them hoping to get one of the souvenir pens the president would hand out.
The White House had invited almost everyone who had had a hand in the preparation and passage of the immigration legislation. Among the invitees was Erich Leinsdorf, the symphony conductor from Austria who had first sensitized Lyndon Johnson to immigrant concerns and who had been able to escape Nazi rule thanks to Johnson's personal intervention.
Like many of the other guests, Leinsdorf arrived by boat, but with hundreds of people milling around, he never got close enough to see the actual ceremony. Johnson took a seat at the wooden table, with his wife Lady Bird, at his right elbow. Luci, their daughter, stood nearby.
Gathered tightly around them were Vice President Humphrey and his wife, Muriel, and Manny Celler and his wife. Philip Hart was next to Celler. Ted and Robert Kennedy stood to the left of the president.
Around them were top Democratic leaders, including U.N. ambassador Arthur Goldberg, House speaker John McCormack, Ambassador Averell Harriman, Senators Daniel Inouye of Hawaii, and Mike Mansfield of Montana, along with two House Republicans, Ogden Reid and John Lindsay, both of them with New York constituencies that had a stake in the liberalization of immigration policy.
Michael Feighan stood off to one side, as far from Manny Celler as he could be. The waters of New York Harbor and the Manhattan skyline provided the backdrop.
Johnson's Speech On Immigration And Racial Equality
The president's remarks, delivered at a podium in the shadow of the Statue of Liberty, reflected the ambiguous interpretation of the legislation. "The bill that we sign today is not a revolutionary bill," Johnson said. "It does not affect the lives of millions.... Yet it is still one of the most important acts of this Congress and of this administration."
For the president and his administration and for those members of Congress who had worked hardest for the reform legislation, the Immigration and Nationality Act of 1965 was above all a symbolic victory in the battle against injustice and discrimination.
Johnson said the bill "corrects a cruel and enduring wrong in the conduct of the American nation."
The bill says simply that from this day forth those wishing to immigrate to America shall be admitted on the basis of their skills and their close relationship to those already here.
This is a simple test, and it is a fair test. Those who can contribute most to this country—to its growth, to its strength, to its spirit—will be the first that are admitted to this land.
The fairness of this standard is so self-evident that we may well wonder that it has not always been applied. Yet the fact is that for over four decades the immigration policy of the United States has been twisted and has been distorted by the harsh injustice of the national origins quota system.
Under that system the ability of new immigrants to come to America depended upon the country of their birth.... Families were kept apart because a husband or a wife or a child had been born in the wrong place....
This system violated the basic principle of American democracy—the principle that values and rewards each man on the basis of his merit as a man. It has been un-American in the highest sense, because it has been untrue to the faith that brought thousands to these shores even before we were a country.
Today, with my signature, this system is abolished.
Following the ceremony, Johnson and his party left the island on a helicopter. White House staff had finally located Erich Leinsdorf, and Johnson invited him to go in the helicopter with him and then ride along in his limousine to the Waldorf-Astoria hotel, where the president and first lady were to have dinner with Ambassador Goldberg, an old friend of Johnson's, and his wife.
Nine people were crowded into the car, more than it was supposed to carry, but Johnson was in a celebratory mood and insisted that everyone squeeze together in the limousine, as if they were on their way to a high school prom.
Excerpt from A NATION OF NATIONS by Tom Gjelten. Copyright © 2015 by Tom Gjelten. Reprinted by permission of Simon & Schuster, Inc, NY.
© 2023 Latin Times. All rights reserved. Do not reproduce without permission.