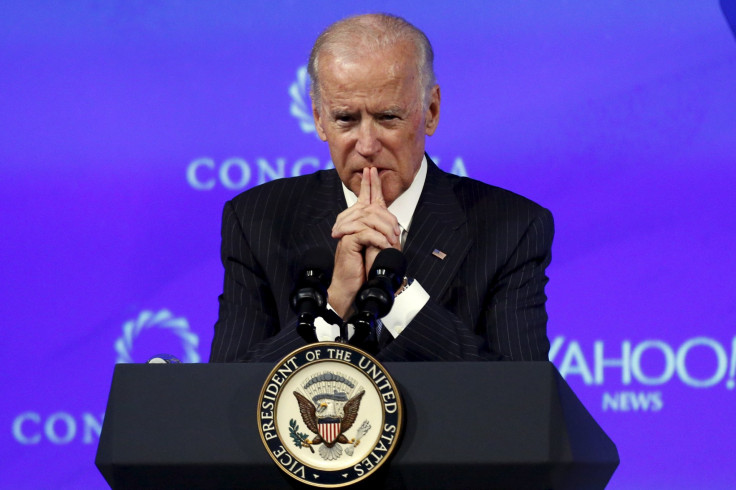 "This nativism never succeeds, and it will not succeed now," says Vice President Joe Biden in a video of a candid address to a group of Latino leaders delivered at a Latino Victory Project fundraiser on Tuesday night.
Biden said that "Hispanics are down" because of "the beating, the beating Hispanics are taking at the hands of the [Republican presidential candidates]," adding that "these guys don't speak for Americans."
Biden's cameo was well-received by the Latino Victory Project, who said that it was a last-minute decision. The Project has supported Latino candidates in both the Democrat and Republican parties, according to CNN.
The VP blasted GOP candidates and compared them to anti-immigrant movements that failed in the past. He argued that political candidates opposing immigration reform were out of step with public opinion.
The American people, Biden said "are so far beyond these guys, who are appealing to everything from homophobia to this notion of ... the Know-Nothing Party," referring to the 19th century anti-immigrant movement that rallied against Irish Catholics, Biden's ancestors. "It was all about stopping immigration."
Biden is considering throwing his hat into the presidential contest. His potential Democratic primary rivals Hillary Clinton, Martin O'Malley, Bernie Sanders, Lincoln Chafee and Jim Webb will participate in a CNN/Facebook debate next week. Under the debate's rules, Biden could still take part.
"I'm the guy literally in charge of the hemisphere for the administration, not a joke," Biden said at the event according to BuzzFeed's Adrian Carrasquillo, who first reported the remarks. "I'm the guy that has the relationship with every head of state, the president asked me to honcho the hemisphere."
The video was originally posted by political consultant Alida Garcia, currently Director of Coalitions & Policy for FWD.us, a pro-immigrant lobby group, and formerly Latino Vote Deputy Director for President Barack Obama's 2012 campaign.
The appearance fueled further speculation that Biden will join the race.
© 2023 Latin Times. All rights reserved. Do not reproduce without permission.