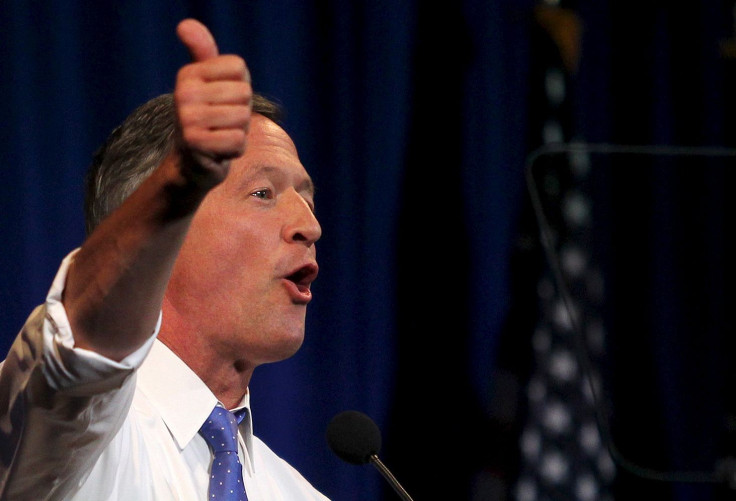 Just feet away from Maricopa County Sheriff Joe Arpaio's infamous Tent City Jail, Martin O'Malley called for a virtual end of immigrant detention. More that 30,000 immigrants can find themselves sitting in a jail cell, temporary holding center or family detention facility on a given night, but the former Maryland Gov. says that that should end. In his remarks, O'Malley lashed out at Arpaio, who has a history of racial profiling and overzealous immigration enforcement that have been punished in the courts, as well as Donald Trump, who recently called for a blanket ban on Muslim immigration.
"My name is Martin O'Malley, I'm a Democrat running for president of the U.S.," O'Malley said addressing journalists and live online audience. "I have come to Arizona today to call for an end to immigrant detention and internment camps in the United States of America [...] Our country today is at a crossroads. We have heard Donald Trump say hateful things about immigrants for many many months."
Latino lawmakers and activists have increasingly called for and end to family detention and imprisonment of asylum seekers in particular. Those who await an asylum application are not even being tried for an offense, they point out, in jails where human rights abuses have been well-documented and rarely addressed. Children and LGBTQ detainees are particularly vulnerable to mistreatment.
O'Malley blasted Trump's proposal to track Muslim citizens in the U.S. He also attacked rival democratic candidates for what he described as "speaking out both sides of their mouths."
"Senator Sanders, Secretary Clinton say different things to different groups," he said, citing Sanders' 2007 vote against comprehensive immigration reform and in support of a measure intended the protect members of the Minuteman Project as well as "Clinton saying that immigration detentions are a deterrent to illegal immigration."
He implied that unlike him, those candidates pander to Latinos, only speaking to the issues of immigrant rights in Latino states like Nevada, but not in states not Iowa and and New Hampshire. O'Malley trails his opponents in all early primary polls, and has a lower favorability and name recognition among Latino voters.
Latino politicians and other influentials have increasingly leaned towards Martin O'Malley's opponents. Politicians (Julian Castro, Bill Richardson) and celebrities (Christina Aguilera, Ricky Martin) have showered Clinton with endorsements. Activists have flocked to all three campaigns, perhaps indicative of an internal disagreement over electability, economics, and how far a potential president should push the dial towards the demands of immigration advocates.
O'Malley, followed to some degree by Sanders, thinks the dial should go all the way, offering only narrow exceptions to the activist demand "not one more deportation." When asked by a Spanish-speaking reporter in Arizona how he would pass immigration reform, O'Malley offered an oft-repeated reply: "a new consensus" and "new leadership."
Like his rivals, O'Malley offers little legislative strategy on achieving his agenda on the Hill, where anti-immigration advocates have won every major battle on immigration since the Reagan years, even against President George W. Bush's 2007 reform bill.
Despite holding his press conference a few feet away from Arpaio's notorious jails, it looks like O'Malley may have missed a chance for dialogue with his adversary. When asked if he had taken up on the Sheriff's offer to tour the jail, he said he hadn't received the message, which was posted on Twitter on Monday.
But like many politicians who support immigrant crackdowns, Arpaio seems more concerned with another potential democratic nominee.
© 2023 Latin Times. All rights reserved. Do not reproduce without permission.