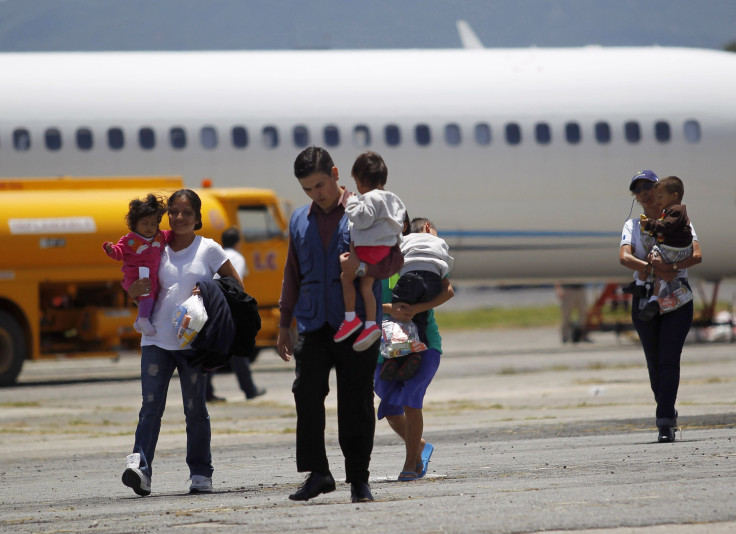 Twenty Senate Democrats have called on President Obama to offer indefinite deportation relief and work permission for an estimated* 1.5 million immigrants. The letter follows a controversial effort on behalf of the White House to deport recent migrants from Central America who have failed to qualify for refugee status. Raids spearheaded by ICE during the first week of January terrorized immigrant communities. Public outrage from top Democrats that was followed by an apparent halt in the raids, but the administration could resume them at any time.
The letter calls for a permanent halt to the raids and opportunities for those detained to have their cases re-examined. While it acknowledged the White House's desire to "eagerness to deter additional arrivals from this region," it does not specify under what circumstances current or future Central American migrant should be deported, apart from committing crimes. Finally, the letter calls for residents of Northern Triangle countries to be allowed to stay in the U.S. until it is safe to deport them to their home countries.
"[We] urge you to consider designating Guatemala and re-designating El Salvador and
Honduras for temporary protected status (TPS)," says the letter, signed by Democrats including presidential candidate Bernie Sanders (full list follows).
TPS, created by congress in 1990, gives the president broad discretion to grant deportation relief and work permits to all citizens of a particular country present in the U.S. due to "ongoing armed conflict (such as civil war)" "environmental disaster (such as earthquake or hurricane), or an epidemic" or "other extraordinary and temporary conditions," according to USCIS. All on the list of the world's top most violent countries, the Senators argue that El Salvador, Guatemala and Honduras meet the criteria for TPS.
"The humanitarian crisis in our hemisphere compels us to affirm our fundamental value of protection. We understand your desire to deter additional families from making the perilous journey to the United States, but we must not forsake those with potential claims for protection in pursuit of that objective," the letter concludes.
TPS is currently enjoyed by citizens of Honduras who arrived in the U.S. in 1998 or earlier and citizens of El Salvador who arrived in 2001 or earlier.
*According to DHS statistics from 2011 . The number is likely higher given recent migration trends.
What do you think of the request? Check out the full letter, below, and share your thoughts in the comments.
01.22.16 DHS Targeted Enforcement Letter by Senator Cory Booker
Here's the list of Senators who signed the document:
Patrick Leahy (D-Vt.)
Richard Durbin (D-Ill.)
Patty Murray (D-Wash.)
Cory Booker (D-N.J.)
Mazie Hirono (D-HI)
Christopher Murphy (D-Conn.)
Al Franken (D-Minn.)
Bob Menendez (D-NJ)
Elizabeth Warren (D-Mass.)
Bernie Sanders (D-Vt.)
Sherrod Brown (D-OH)
Ed Markey (D-Mass.)
Brian Schatz (D-HI)
Tammy Baldwin (D-Wis.)
Richard Blumenthal (D-CT)
Kirsten Gillibrand (D-N.Y.)
Ben Cardin (D-Md.)
Tim Kaine (D-Va.)
Gary Peters (D-Mich.)
Barbara Mikulski (D-Md.)
Michael Bennet (D-Colo.)
Jeff Merkley (D-Ore.)
© 2023 Latin Times. All rights reserved. Do not reproduce without permission.