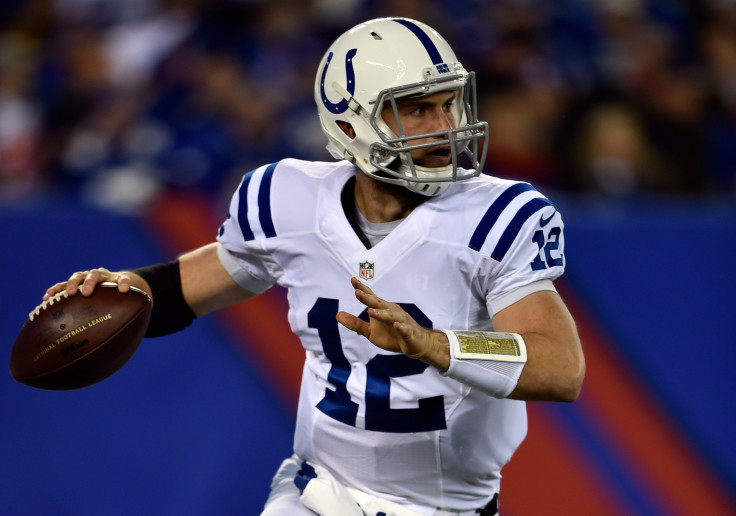 It looks like the Indianapolis Colts are going to get their starting quarterback back for Monday Night Football against the New York Jets.
According to NFL.com, Luck is on track to play this upcoming Monday after missing last week's game against the Pittsburgh Steelers. Luck was unable to play against the Steelers on Thanksgiving last week due to a concussion he suffered in a game vs. the Tennessee Titans.
Luck is still technically in concussion protocol, however he has been able to practice without restrictions. Fortunately for the Colts, time is on their side. Luck hasn't played in a game since Nov. 20, and this upcoming match against the Jets is on Monday, meaning Luck will get an extra day of rest. If things continue at this current pace, Luck should be cleared for Monday's game.
Luck is presently listed as "probable" on the Colts depth chart.
The Colts need Luck now more than ever. They are now 5-6, good enough for third place in the AFC South. The Colts don't have much of a chance at making the postseason as a wild card team, but they can still qualify by winning the division. Thankfully for them, the AFC South is not very strong. The Titans and Houston Texans only have six wins each.
The biggest game for the Colts will come afterwards, against the division leading Texans. The Texans won the first matchup in Houston, but this Week 14 game will be played in Indianapolis. If the Colts lose that game, their season could very well be over.
Luck has an $18.4 million cap hit this year with the Colts.
© 2023 Latin Times. All rights reserved. Do not reproduce without permission.