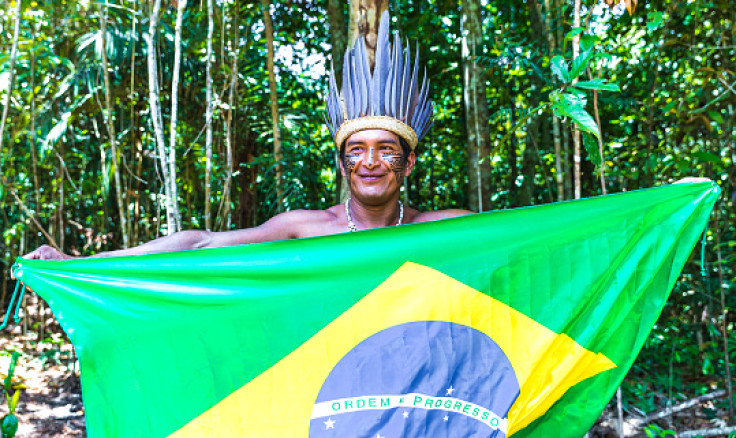 In a momentous ceremony filled with dances and traditional rituals, Brazil's government formally acknowledged the rightful ownership of a remote Amazon territory in the southeastern state of Para by three indigenous peoples.
The federal minister for indigenous peoples, Sonia Guajajara, presented the land titles amidst great celebration, symbolizing President Luiz Inacio Lula da Silva's administration's commitment to preserving the vast expanse of pristine rainforest.
"These lands in the hands of indigenous people, of their true owners, are now a guarantee of environmental preservation, the protection of diversity and culture," Guajajara said.
Joenia Wapichana, the President of the National Indigenous Peoples Foundation (Funai), expressed her satisfaction with the granting of land titles to the Alto Rio Guama indigenous peoples.
This official recognition not only solidifies their ownership of the land but also provides them with crucial support on social issues, as well as assistance in farming and sustainable fishing—the primary economic activities in the region.
Covering an extensive area of 282,000 hectares (1,090 square miles), the Indigenous Territory of Alto Rio Guama is home to approximately 2,500 individuals from the Tembe, Timbira, and Ka'apor ethnic groups.
The significance of this moment cannot be understated, as Indigenous leader Iguinaldo Tembe emphasized.
He stated that the delivery of these titles represents the culmination of a struggle spanning several decades, which he witnessed firsthand as a child.
His father, grandfather, "and many other ancestors who are now gone" also participated in this enduring fight for recognition and justice.
Puyr Tembi, the secretary of indigenous affairs in Para, shared a personal account reflecting the long-standing struggle for recognition in the region.
Being a native of Alto Rio Guama and residing within the territory, she vividly remembers witnessing her family's unwavering dedication and relentless pursuit of their rights since her childhood.
She recollects the countless challenges they faced and the ongoing battle they fought.
"Now no one will have to hide anymore," she said with tears in her eyes, recalling violent episodes she experienced as a girl during invasions by recently evicted non-indigenous settlers.
The legal ownership of the territories in question had been a contentious matter, leading to prolonged legal disputes from 1945 to 1993.
Finally, the Brazilian courts officially recognized Alto Rio Guama as an indigenous territory, granting it the rightful status it deserved.
However, the process of removing approximately 2,000 non-indigenous settlers who had unlawfully settled on these lands proved to be challenging and complex.
Unfortunately, during this process, corrupt agreements between influential landowners and judges tainted the proceedings.
It wasn't until 2014 that Brazil's courts issued an order for the removal of these settlers. Nonetheless, it took several years for the ruling to be effectively enforced, La Prensa Latina reported.
In March of this year, under the newly established Indigenous Peoples Ministry initiated by President Lula, the process finally began to implement the court's decision.
"There were no conflicts," said a military spokesman who was involved in the process of evicting the non-indigenous settlers, many of whom were engaged in illegal logging.
To prevent the settlers from returning and to prevent potential conflicts, it has been decided to maintain a continuous presence of police and military personnel in the area.
Approximately 80 police officers and soldiers have been deployed to oversee the situation. According to the army spokesperson, these security forces will remain in Alto Rio Guama until the end of the year, with the possibility of extending their presence evaluated at a later time.
© 2023 Latin Times. All rights reserved. Do not reproduce without permission.