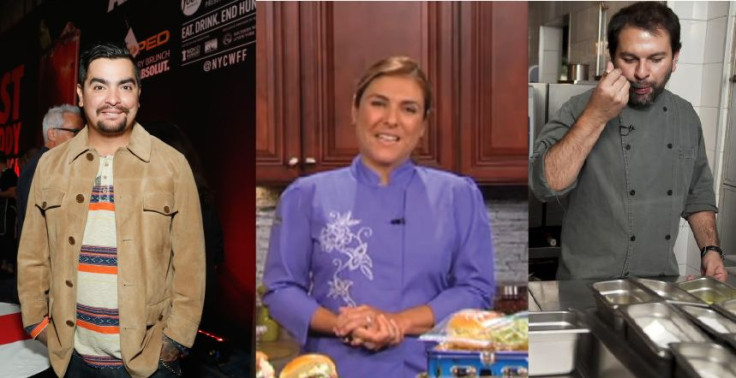 The rise of celebrity chefs has propelled Latino chefs as well, putting their talents on the map, landing them TV shows, book deals, restaurant openings and more. The fact that Latin cuisine has influenced others and infiltrated prominent Chef's kitchens has shed light on these up and coming chefs as well. In honor of International Chef's Day, here's a list of some of the best and most successful Latino chefs. Chef Lorena García: Venezuelan-born restaurateur, TV personality and published author, García is currently one of the country's leading chefs. Her commitment to changing lives for better, healthier eating habits took her to start her show "Big Chef, Little Chef" as a comprehensive non-profit program to help children and their families take control of their eating habits and, ultimately, their lives.
Chef Aarón Sanchez: You might recognize him from Food Network shows like "Chopped" and "Heat Seekers" or "The Best Thing I Ever Ate", but the son of celebrated Mexican cooking authority Zarela Martínez, has been cooking professional since he was a boy. He started by helping his mother prepare traditional Mexican foods for her catering business, and is now a critically acclaimed, celebrity chef.
Chef Ingrid Hoffmann: Raised in Colombia and Curaçao, Hoffmann began cooking at a young age with her mother, Yolanda Ibarnegaray and then moved on to acting and modeling. She later began cooking again and opened the celebrity hotspot restaurant, Rocca in Miami. After hosting a cooking segment, she landed several TV deals that lead to her cooking shows "Simply Delicioso" on the Cooking Channel and "Delicioso" in Univisión.
Chef Enrique Olvera: Mexican cuisine extraordinaire, Olvera's deep love of food took him to study at the CIA, to later open Pujol, which was named one of the 50 Best Restaurants in Latin America. After opening other restaurants in Mexico, his latest project takes him to New York where he's opening the highly anticipated Cosme.
Chef Ricardo Zarate: He first found his calling in his family's kitchen in Lima, Peru, learning from his mother and grandmother's cooking techniques. Zarate won the "Best New Chef" award from Food & the Wine in 2011 and has since been praised by cuisine critics for his inventive dishes that highlight the country's multicultural flavor influences, including his beloved Japanese cuisine. He now has four successful restaurants in California: Picca, Mo-chica, Paichẽ and his latest, Blue Tavern.
Chef Angelo Sosa: Talk about a mixed cultural background, Chef Sosa is Dominican and Italian by heritage, grew up in Connecticut, and has adopted Asian cuisine as his own. Sosa moved to New York to work for one of his idols, Chef Jean-Georges Vongerichten in a few of his restaurants and then went deeper into Asian cuisine consulting for Buddakhan and Morimoto. He appeared as a finalist on Food Network's "Top Chef" in 2010 and his latest project, Social Eatz, is an Asian-influenced sandwich joint.
Chef Alfredo Oropeza: Born in Mexico City, Oropeza is best known for his work on TV, although he additionally writes for a series of magazines, is a published author and continues to search for ways to make healthy delicious food. You can currently catch him on "Hoy" in Univision too.
Chef Jose Enrique: Named one of Food & Wine's "Best New Chefs" in 2013, José Enrique is quickly gaining national attention as a chef whose love of fresh produce and traditional cuisine has made him one of the unofficial ambassadors of Puerto Rico's growing fine dining scene.
Chef Marcela Valladolid: The star of Food Network's "Mexican Made Easy" was born in San Diego, California and got her cooking start at her Aunt's in Tijuana. Not only is Valladolid charming, but she went from teaching cooking from her home to becoming a celebrity chef!
© 2023 Latin Times. All rights reserved. Do not reproduce without permission.