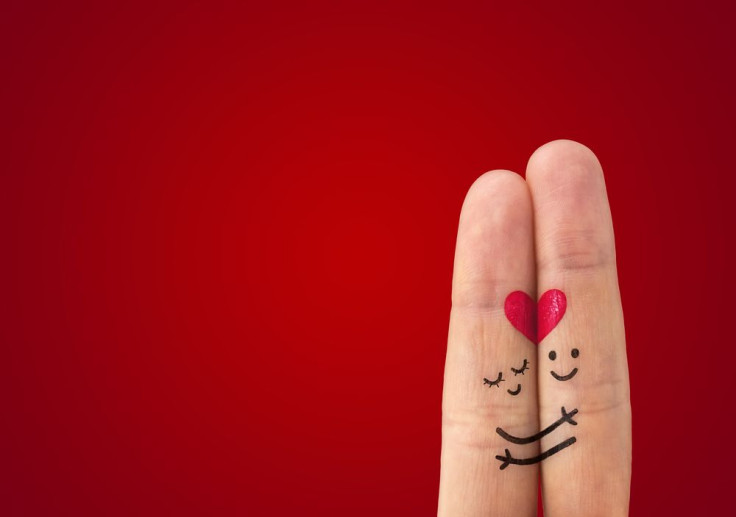 Happy Happiness Day! Today is the International Day of Happiness, which is celebrated throughout the world on March 20 every year. It was founded by the United Nations General Assembly in June 2012, following a multiyear campaign initiated in 2011.
This day is used to not only celebrate your own happiness but help others around you be as happy as you are. There are many ways to get involved in person and even online. To join the happiness train, we have compiled a list of quotes about perhaps the happiest people around us, couples.
Couples in love have a tendency to display affection no matter where they are. Their actions draw attention, stares, gasps, and in some cases, police intervention. Yet, you must admit that couples who are obliviously in love, teach us all a thing about nurturing relationships and even give us something to aspire to. Check out our list of top 40 cute couples quotes to celebrate International Day of Happiness!
1. "Some couples go over their budgets very carefully every month. Others just go over them." ― Katherine Mansfield
2. "It is almost impossible to love without trusting. I remember the first time you said you trust me and then I knew that love will eventually find its way in our hearts." ― Sean Warfare
3. "I know my heart will never be the same. But I'm telling myself I'll be okay." ― Sara Evans
4. "Relationships" don't always make sense. Especially from the outside." ― Sarah Dessen, "Along for the Ride"
5. "I've been asked to say a couple of words about my husband, Fang. How about short and cheap?" ― Phyllis Diller
6. "If we are a metaphor of the universe, the human couple is the metaphor par excellence, the point of intersection of all forces and the seed of all forms.The couple is time recaptured, the return to the time before time." ― Octavio Paz
7. "Out of all the things that I do all day, telling you that I love you is the sweetest thing I do. It is my favorite part of the day because you deserve all the love I can give." ― Nathan Tweed
8. "American couples have gone to such lengths to avoid the interference of in-laws that they have to pay marriage counselors to interfere between them." ― Florence King
9. "I'm oxygen and he's dying to breathe." ― Tahereh Mafi, "Shatter Me"
10. "Love is the answer, but while you're waiting for the answer, sex raises some pretty interesting questions." ― Woody Allen
11. "I feel very confident that we will make it through. Though we fight a lot I know that we will be together." ― Vernon Straights
12. "Ideally, couples need three lives; one for him, one for her, and one for them together." ― Jacqueline Bisset
13. "Take care of him. And make him feel important. And if you can do that, you'll have a happy and wonderful marriage. Like two out of every ten couples." ― Neil Simon
14. "Unmarried couples should get married -- that's an excellent tax avoidance measure, if a bit drastic." ― John Whiting
15. "This would be a much better world if more married couples were as deeply in love as they are in debt." ― Earl Wilson
16. "Its funny how time flies by. We met, we dated, got engaged and now are getting married. It's so fast." ― Tam Ross
17. "They shared the chores of living as some couples do -- she did most of the work and he appreciated it." ― Paula Gosling
18. "Tell him I'm going to the back seat of my car with the woman I love, and I won't be back for ten minutes!" ― Homer Simpson, "The Simpsons"
19. "Married couples resemble a pair of scissors, often moving in opposite directions, yet punishing anyone who gets in between them." ― Sydney Smith
20. "A heart that loves is always young." ― Greek Proverb
21. "We do seem to bicker and bicker. Sometimes I feel we're like an old married couple, who think occasionally of murdering each other -- but never of divorce." ― Denis MacShane
22. "I'm drinking doubles now that you're running around single again." ― Willie Nelson
23. "Each moment of a happy lover's hour is worth an age of dull and common life." — Aphra Behn
24. "A hug is like a boomerang: you get it back right away." — Bil Keane
25. "See there's this place in me where your fingerprints still rest, your kisses still linger, and your whispers softly echo. It's the place where a part of you will forever be a part of me." — Gretchen Kemp
26. "Maybe you don't need the whole world to love you, you know, maybe you just need one person." — Kermit the Frog
27. "The trouble with some women is that they get all excited about nothing -- and then marry him." — Cher
28. "Those two are a fastidious couple. She's fast and he's hideous." — Henny Youngman
29. "A married couple are well suited when both partners usually feel the need for a quarrel at the same time." — Jean Rostand
30. "I meet so many people I know and they all say my name and smile at me with kindness. But none of that can compare to the feeling I get when you flash that sunny bright smile at me and cutely say my name." — Adrian Morass
31. "A man is already halfway in love with any woman who listens to him." — Brendan Francis
32. "Romeo wouldn't change his mind. That's why people still remembered his name, always twined with hers" ― Stephenie Meyer, "New Moon"
33. "He is the cheese to my macaroni." ― Diablo Cody, "Juno: The Shooting Script"
34. "Why be alone when we can be together baby. You can make my life worthwhile, and I can make you start to smile" ― Mr. Big, "Sex & The City"
35. "What greater thing is there for two human souls, than to feel that they are joined for life--to strengthen each other in all labor, to rest on each other in all sorrow, to minister to each other in all pain, to be one with each other in silent unspeakable memories at the moment of the last parting?"
― George Eliot, "Adam Bede"
36. "One's not half of two; two are halves of one." ― E.E. Cummings
37. "Last night, I got up the courage to ask you if you regretted us. 'There are things I miss,' you said. 'But if I didn't have you, I'd miss more.'" ― David Levithan, "The Lover's Dictionary"
38. "Because being with you makes perfect sense" ― Tim McGraw
39. "The thing about loving someone, is that yelling at them only feels good while you're doing it -- as soon as they're gone, all you want to do is take it all back" ― Lauren Barnholdt, "Getting Close"
40. "To suffer together is to suffer with beauty..." ― Kelli Russell Agodon, "Hourglass Museum"
© 2023 Latin Times. All rights reserved. Do not reproduce without permission.