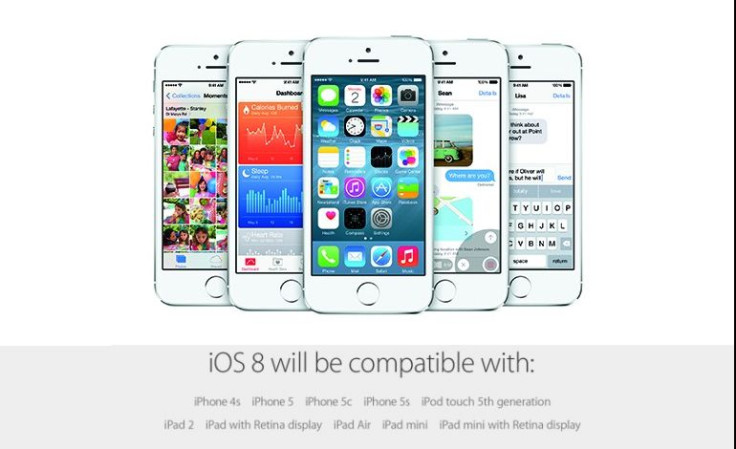 The iPhone 6 and iPhone 6 Plus release date is finally upon us! The next big thing from Apple will hit the shelves on Friday, Sept. 19. For Apple fans that can't wait for the release, Apple is preparing a sneak preview, of sorts, with the release of the new iOS 8. The new iOS 8 will launch today, Sept. 17, at approximately 10 a.m. PT, or 1 p.m. ET.
Apple promises the iOS 8 to deliver new features including iCloud Photo Library, new Health App, new messaging features, and more. iOS 8 also promises better integration with other Mac devices, which means a user could start an activity on one device and finish it on another. With Instant Hotspot, a Mac or iPad could also make and receive calls and even send SMS and MMS messages.
"iOS 8 offers simpler, faster and more intuitive ways to use your device with incredible new features like iCloud Photo Library, a new Messages app, the QuickType keyboard and an entirely new Health app," said Craig Federighi, Apple's senior vice president of Software Engineering. "We're also giving developers amazing new tools to make managing your health and your home from your devices an integrated, simple and secure experience."
With iCould Photo Library, all photos and videos can be accessed across all enabled devices. Post production editing is also more convenient as every adjustment and effect is automatically updated to all devices. Next, the Health App can gather all the information from your various health apps and fitness devices to deliver a clear overview of your status at one location. New messaging features include "Tap to Talk" that allows you to share sound clips as messages. Predictive typing with QuickType is smarter and more personalized than ever. QuickType can remember words used often to even favorite phrases. Last but not least, iOS 8 introduces Family Sharing, which allows up to six members of a family to share iTunes, iBooks, and App Store purchases!
The iOS 8 will be available on all iPhones excluding the iPhone 4 and older. You may download iOS 8 for the iPad 2, Retina, Air, Mini, and Mini Retina, as well. Finally, iOS 8 is also available on the 5th Gen iPod Touch.
Thankfully, the iOS 8 upgrade is relatively straightforward. Simply connect your device to WiFi and go to Settings > General > Software Update. Tap on Software Update and the update should trigger automatically. Don't worry: iOS 8 is free to download!
The new iOS 8 will launch today, Sept. 17, at approximately 10 a.m. PT, or 1 p.m. ET. Now it's your turn: let us know if you downloaded the new iOS 8 update. Do you like it? Share your experience in the comment section below!
© 2023 Latin Times. All rights reserved. Do not reproduce without permission.