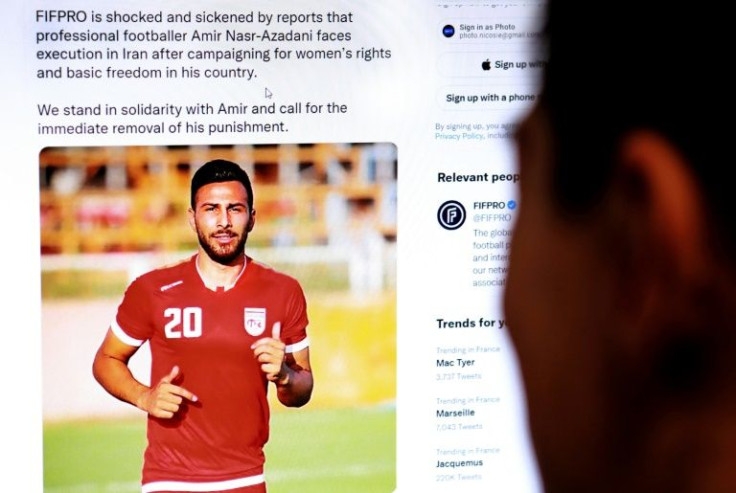 An Iranian professional soccer player has been charged for his alleged actions while participating in the nationwide women's rights protests.
Amir Nasr-Azadani, 26, was arrested in relation to the death of an an Islamic Revolutionary Guard Corps commander and two volunteer militia members, in November, along with participating in the recent Iranian protests, according to the Iran Wire.
Nasr-Azadani has been accused of being a member of an "armed group" that was involved in the death of a commander and two volunteer militia members during protests in the city of Isfahan in central Iran, said the city's chief justice Asadullah Jafari, according to state news agency IRNA on Sunday, according to CNN.
In the report, Jafari said Nasr-Azadani had been charged with rioting against authorities. He has been in custody since November 27, but no sentence has been issued yet for the accused, the report added.
Nasr-Azadani is charged with a crime known as moharebeh. The crime roughly translates as "enmity against God," and carries the death penalty as punishment if convicted.
The Fédération Internationale des Associations de Footballeurs Professionnels (International Federation of Professional Footballers), commonly known as FIFPRO, issued a statement stating they are "shocked and sickened" by reports that Iranian soccer player Amir Nasr-Azadani could possibly be executed.
"We stand in solidarity with Amir and call for the immediate removal of his punishment," FIFPRO mentioned Monday in their statement posted on Twitter.
Nasr-Azadani played three seasons in the Persian Gulf Pro League from 2015 to 2018, the latter two of which he spent with the Tractor Cultural Sports Economic Club as a defender. Prior to that, he played for Sepahan S.C. from 2012 to 2015 in his youth league career.
It is unclear when Nasr-Azadani's trial is scheduled to begin.
© 2023 Latin Times. All rights reserved. Do not reproduce without permission.