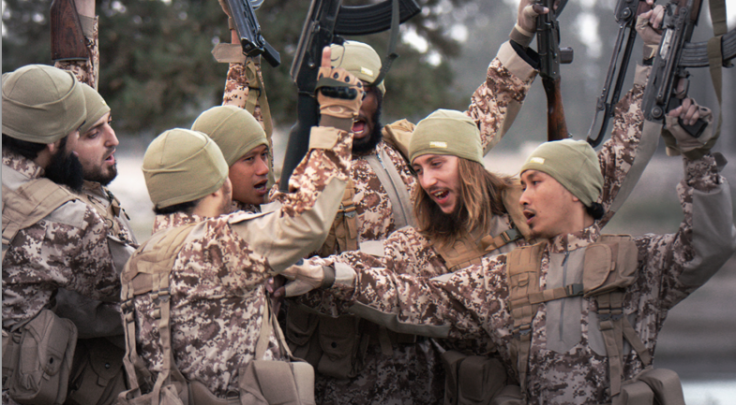 Rumors of ISIS and Al-Qaeda crossings of the U.S.-Mexico have swirled around for years, with little evidence to back up the rumors. Following an uptick in terrorist attacks directed or inspired by the ISIS (also known as ISIL, Islamic State, and Daesh), fear is back at the border, supercharging the border rhetoric of nationalist politicians and militants usually preoccupied with Latino immigrants from Mexico and Central America. Have fear, ISIS is here. So say members of the Arizona Border Recon, the active paramilitary group portrayed in the documentary Cartel Land tell the Washington Post.
"We have pictures from trail cameras that show Somalis and Middle Eastern guys with beards and everything else, but nobody is listening," Foley told The Washington Post's Peter Holley this week. "We're going to have something like Paris had. It's not a matter of if, but when."
Though the Paris attack was perpetrated by European citizens, and previous Islamically inspired terrorist attacks on the U.S. were carried out by U.S. citizens in the country illegally, the veterans who form the pseudo-vigilante volunteer backbone of Arizona Border Recon believe that their group sits on the front lines of the fight.
News of Pakistani and Afghan migrants crossing the border illegally have added fuel to the flames, despite a lack of connection with terrorist groups.
Arizona Border Recon patrol a narrow section of the Mexico-U.S. border in full military gear and detain suspected migrants, handing them over to border patrol agents
"Everything's coming across this border. Dope, disease, scumbags, terrorists … [the government] not doing what it's supposed to be doing — protecting our country," Foley told Al Jazeera's Tim Gaynor in October of 2014.
"We're not all flaming lunatics down here, we love our country," Foley told a local TV station.
To support their border patrol mission, Foley and his team rely on donations to their website, IBT reports. That's a good thing, as one former vigilante border group, the Minutemen American Defense, relied on robberies of suspected drug dealers. In one robbery-gone-wrong, Mineuemen members killed a 9-year-old Hispanic girl.
Foley says that Arizona Border Recon is different, with what he describes as "strict rules of engagement," i.e. they're not itching to shoot anyone. They also reject the SPLC's designation that it is an extremist nativist group, though Foley says in Cartel Land that anger of illegal immigration first inspired him to start his paramilitary activity.
"We are not against immigration we just want it done the right way, because your friends wouldn't climb through your back window to come visit you. If you come through the front door that's fine but we don't know who is who," Foley said.
© 2023 Latin Times. All rights reserved. Do not reproduce without permission.