Dozens have been killed and many people injured and are critical after a stampede broke out at a Jewish religious site in Israel, in the wee hours Friday. A grandstand collapsed in Meron, Israel, leading to the accident. Rescue operation is currently in full swing after the incident occured.
Magen David Adom (MDA) stated that at least 38 people were killed during the religious congregation that took place on a Friday. Israel's national emergency service added that it is currently fighting for the lives of dozens wounded. "MDA is fighting for the lives of dozens wounded, and will not give up until the last victim is evacuated," the agency posted on Twitter.
Aljazeera reported that Prime Minister Benjamin Netanyahu took to social media and called the incident a "heavy disaster" and added that he is praying for the wellbeing of the victims.
The stampede is said to have happened while an annual pilgrimage for the feast of Lag BaOmer in Meron was conducted. Tens of thousands of pilgrims attended the religious event. They consisted mainly of ultra-orthodox Jews, gathered around the sacred tomb of Rabbi Shimon Bar Yochai, a second-century Talmudic sage.
The participants crowded the Mount Meron slope despite Covid-19 warnings by health officials, according to Reuters. There was authorization for only 10,000 people to gather at the site of the tomb but organizers said more than 650 buses had been chartered from across the country, bringing 30,000 pilgrims to Meron. Around 5,000 police personnel had been deployed at the event, which is Israel's largest public gathering during the coronavirus pandemic.
Some witnesses claimed that they saw people slowly suffocating and being crushed in a passageway. There were suspicions about a bomb threat at the event. A participant who was identified as Yitzhak told Channel 12 TV, "No one imagined that this could happen here. Rejoicing became mourning, a great light became a deep darkness."
The MDA claimed that 1030 people have been injured, including dozens of fatalities. The emergency services is carrying out rescue operations to recover the wounded people. Police have shut down the site prevent people from entering.
Meanwhile, the Transportation Ministry ordered roadworks in the area to be stopped temporarily. It is in order to enable ambulances and buses carrying the wounded to move unhindered. The military also sent help through helicopters as they airlifted victims to hospitals.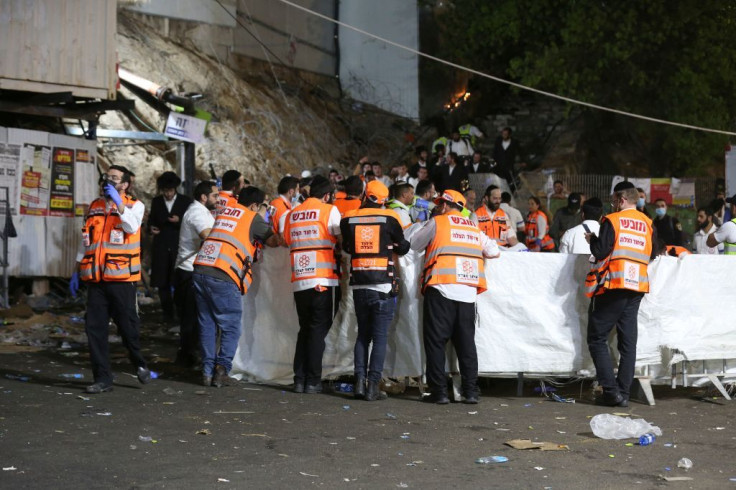 © 2023 Latin Times. All rights reserved. Do not reproduce without permission.