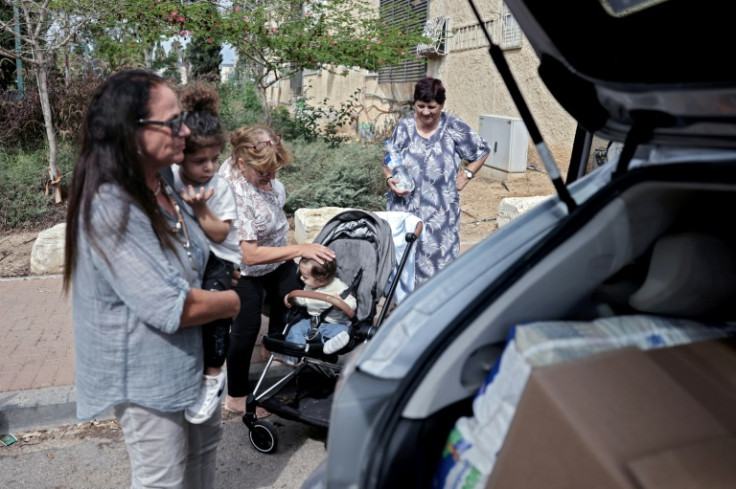 Israelis living in border communities near the Gaza Strip are bracing for a long and hard war with Hamas -- some heeding evacuation calls but others staying put.
"It's the devil that's attacking us," said Gil, a reservist stationed in southern Israel's Sderot, which after years of periodic rocket attacks from the besieged Palestinian territory has become accustomed to the warning blares of sirens.
"But this time it's different," he told AFP, asking that his full name not be used.
On October 7, Hamas gunmen stormed Sderot and other border communities from across the heavily militarised frontier with Gaza, killing more than 1,400 people, mostly civilians, and taking nearly 200 hostages.
Israel has responded with a relentless bombing campaign in Gaza, where authorities say nearly 3,500 people have been killed.
Ahead of a looming Israeli ground offensive in the territory to "destroy" Hamas, classified by the United States and the European Union as a terrorist group, Sderot's city authorities have urged residents to evacuate.
Miriam Shmailov, a 29-year-old homemaker, was rushing to do just that after her apartment building was hit by a rocket.
"I'm too scared, I just want to get out of here," she said, holding bags of her children's clothes.
Israel has offered buses to hotels in other cities for Sderot's 30,000 residents, but around 4,000 remain in the city.
Some, like Shmailov, are struggling to leave due to a lack of help from the authorities.
"We can't wait anymore," she said, as she prepared to travel more than three hours with her family in a volunteer's car.
Ravit Naor, a journalist who volunteered to drive Shmailov to safety at a hotel in Eliat, questioned why officials weren't doing more to help.
The government just goes "blah-blah" when it's "time to act", she said of Israel's response.
"It's volunteers like me who are helping people leave, in our personal cars.
"We shouldn't have to pay for gas, parking."
Naor decried what she said was a lack of interest or aid from the Israeli government in the south, calling it "far from sufficient".
Peter, a 70-year-old retiree who preferred to not be identified, drove up and down the city's deserted streets in a pickup truck, a rifle in hand.
"We came from Tel Aviv to monitor, protect, help as we can," he said.
Politicians have visited the devastated community in recent days.
On Tuesday, Boaz Bismuth, from Israeli Prime Minister Benjamin Netanyahu's right-wing Likud party, surveyed the aftermath of the attack in Sderot.
"We will find the budget for everything that is necessary for security," he said.
"This war will be long; this time, it must be total victory."
Ayelet Shmuel, the director of the International Resilience Center, an organisation that is offering help to Israeli civilians, said the city needs more support.
In front of a municipal building, volunteers dressed in black or khaki military uniforms but without weapons, drank lattes and ate cookies.
"They arrived at the beginning of the war to propose integrating groups to protect the city," said Shmuel.
The city municipality is calling for the formation of a citizens' intervention unit to supplement security forces.
Israel's police on Monday said they would start arming civilians to speed up future responses to attacks and other crises.
Unlike Sderot, which has plenty of shelters, some painted with unicorns or tropical beach scenes on the walls, there are far fewer in Ashkelon, just 10 kilometres (over six miles) to the north.
"We just want shelters," a visibly distressed woman said to a group of journalists in the centre the seaside city.
Vadim Kravitz, a volunteer helping local families, was clearly shaken, despite the big smile on his face, as he recounted how just that morning, while delivering food to isolated residents, he had to lie down on the road, hands on his head, "praying to God that nothing would hit me" as siren went off with no shelter in sight.
"Danger can come from anywhere," said Liber, 47, who called for more secure places.
"It will take as long as it takes, but here, everything must change," said the man from Ashkelon.
"We can't continue like this, (but) we are ready for months or more. Let's end this with Hamas."
© 2023 Latin Times. All rights reserved. Do not reproduce without permission.