Ivanka Trump doesn't seem to be sulking over the protracted quarantine period. The former first daughter seems to be enjoying this phase that's totally devoted to nurturing relationships and spending quality time with family. Insiders close to Trump's eldest daughter believe Ivanka and her husband Jared Kushner are living the idyllic life in Florida, ever since her father got voted out of office and were recently spotted walking their dog this week in Miami.
Meanwhile, 40-year-old Kushner, who's currently juggling work with his non-profit, The Abraham Accords Peace Institute, along with writing a book, reportedly wants a "simpler" relationship with former President Trump. An insider, as cited on Fox News, also alleged that Kushner remains "close" and "speaks regularly" with Trump and hopes for things to remain that way.
Ivanka was also spotted spending Mother's Day by taking private surfing lessons with her three kids Arabella, 9, Joseph, 7, and Theodore, 5. Onlookers spotted an instructor as well, who was teaching the three kids, as Ivanka cheered them on! Ivanka also made headlines for making a chic style statement and wrapped up the day by drying off in a yellow towel and relaxing in a lounge chair for a bit heading home with her family, as reported by Page Six.
Ivanka and Kushner were also spotted at two CVS pharmacies in Miami to get vaccinated against COVID-19. Ivanka took to Instagram to post pictures of herself getting the vaccine, and captioned the post as "I got the shot!!! I hope that you do too! Thank you Nurse Torres!!!" She took the Pfizer-BioNTech vaccine, and received the second shot last month. Ivanka was lying low on social media for close to two months before she made a comeback with a COVID-19 vaccine-endorsement post.
"This afternoon, I gratefully received my second dose of the COVID-19 vaccine," she captioned next to a photo of herself receiving the shot in Miami. "Getting fully vaccinated is the best way to end this pandemic and protect ourselves and one another," she added.
However, Ivanka's endorsements of the vaccine didn't go well with a volley of followers that were anti-vaxxers or sceptical about its efficacy.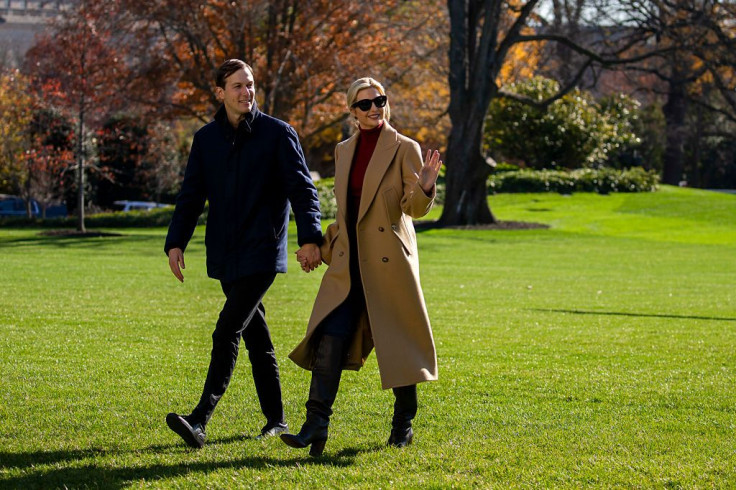 © 2023 Latin Times. All rights reserved. Do not reproduce without permission.