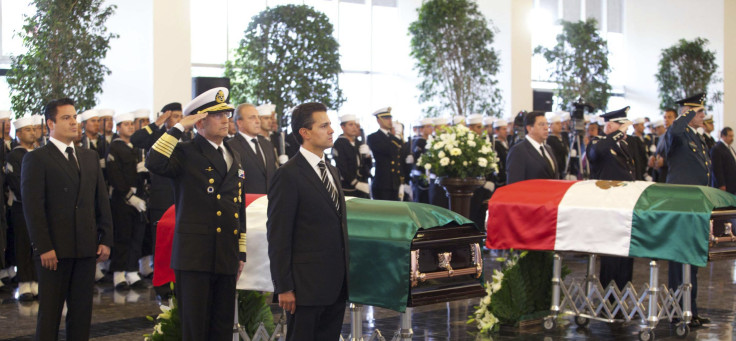 Police chief Miguel Ángel Caicedo Vargas was assassinated by multiple gunmen last night, in what appears to be an open war against the Mexican government in Jalisco, Mexico. The killing followed an unprecedented ambush on Monday that killed 15 state police officers and left 5 wounded in what one analyst described as a "military-style" attack. Gunmen reportedly stopped an entire convoy of cops by blocking the road with one or more cars that had been set on fire. Police trucks, torched grey and punched with holes, were taken away on tow trucks. Photos of the aftermath suggests that the cartel soldiers were heavily armed.
The attacks mark a serious change in an ongoing drug war in Mexico because it's the first time in recent memory that criminals have initiated a major attack on state security forces. The drug war escalated in 2006 after then-President Felipe Calderón declared war on top cartels. Where leadership was captured or killed cartels splintered and fought each other, weakening the overall security situation. It got so bad that citizen vigilantes started taking some towns from cartels as early as 2010. These recent attacks in Jalisco are unique. If copied in other regions, they could plunge Mexico further into chaos.
"The serious thing about [Monday's] attack was that it was very well planned and orchestrated, with a military-style strategy. A lot of gunmen were involved. They blocked the highway to surround them [police] and attack with military superiority," said Raul Benitez, a security expert at Mexico's National Autonomous University.
Monday's attack caused the highest loss of life of officers in Mexico's history, It exceeding a 12-officer body count from a confrontation in Michoacan in 2012. (Like most other confrontations with police, that incident began as federales raided a cartel; it was not an organized attack on police.) Officials strongly suspect the New Generation Jalisco Cartel, known by its Spanish initials CJNG, which could have planned both of this week's attacks as a revenge for the murder of their supposed leader, Heriberto Acevedo Cárdenas, "El Gringo." Cárdenas died two weeks in shootout that also killed four federal troops. Officials also believe that the CJNG is responsible for leaving 35 bodies on a busy Veracruz roadway in 2011.
Enrique Peña Nieto has not released a statement on the attacks in Jalisco, on Twitter or his official website. In the past year, he's has been criticized for failing to publically acknowledge the seriousness of Mexico's security woes. He came under intense scrutiny after 43 students were kidnapped and likely massacred in Iguala last year. The government was unable to find the remains of 42 of those students, and arrests related to the disappearances have been fraught with allegations of forced testimony. Last January he told President Obama that fighting organized crime was a "clear challenge." In a report delivered to the senate this week, Nieto wrote that "insecurity and violence have threatened peace and freedom in various communities," while promising that he could generally guarantee the security and liberty of citizens.
© 2023 Latin Times. All rights reserved. Do not reproduce without permission.