Former White House Chief Strategist Steve Bannon was convicted on Friday in his contempt of Congress trial for defying a subpoena from the Jan. 6 committee.
The jury in federal court found him guilty on two contempt charges, reported The Guardian. They stemmed from his refusal to comply with a subpoena in the congressional investigation seeking documents and testimony related to the Jan. 6, 2021 attack on the U.S. Capitol.
As the jury found him guilty, the 68-year-old, who was wearing a dark blazer over two gray collared shirts, showed little emotion. Once the trial judge left the courtroom, he was seen talking lightheartedly with his lawyers. He is said to have been an unofficial adviser to former President Donald Trump at the time of the insurrection. He faces up to $200,000 in fines and two years in jail, reported BBC.
According to CNN, the conviction is a victory for the Jan. 6 committee as it continues to seek the cooperation of reluctant witnesses in its investigation. It is also a win for the Justice Department, which is under scrutiny for its approach to matters related to the deadly riot. The verdict gave out the message to other potential witnesses and targets in the investigation that blanket defiance of a subpoena could come with far-reaching consequences. They include a statutory minimum of 30 days in prison as well as thousands of dollars in fines.
Matthew Graves, the U.S. attorney for the District of Columbia, said that Bannon had an "obligation to appear before the House select committee to give testimony and provide documents." He added that Bannon's refusal to do so was "deliberate and now a jury has found he must pay the consequences."
But the Trump ally will appeal the conviction after his sentencing. It is tentatively set for late October. According to sources, Bannon had largely expected to be convicted. He has reportedly been preparing to play the long game with an appeal. It would see the case outlast the Jan. 6 investigation, which has a mandate expiring in January 2023.
Outside court Friday, he told reporters that they might have lost a battle, but they "haven't lost the war."
Bannon's attorney Evan Corcoran suggested in closing arguments that committee's subpoena was illegitimate since the signature of the panel's chair, Bennie Thompson, appeared suspicious. The subpoena deadlines were "placeholders" that could be negotiated, he said. Corcoran shared that Bannon "didn't intentionally refuse to comply with a subpoena," and that he "didn't intentionally refuse to comply with anything."
Corcoran's client is one of the two former Trump White House aides to face contempt of Congress charges for not complying with the Jan. 6 committee's subpoenas. The other aide is Peter Navarro.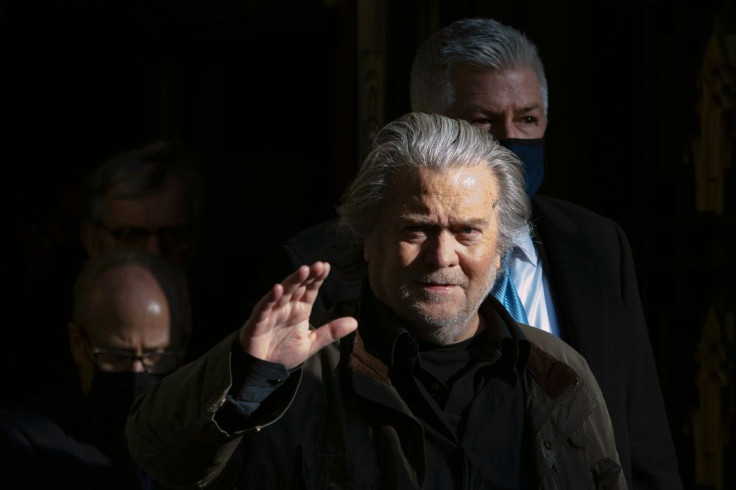 © 2023 Latin Times. All rights reserved. Do not reproduce without permission.