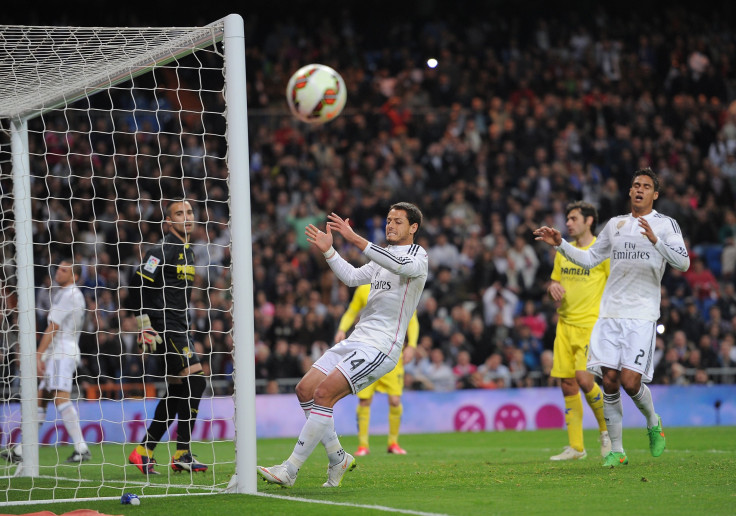 It's been another tumultuous season for Javier "Chicharito" Hernandez. The Mexican soccer star has had trouble finding playing time on the pitch in recent years, and his first campaign with Real Madrid has been no different. So when Chicharito came on in the 80th minute of Los Blancos 1-1 draw with Villareal, you can imagine the frustration had been building inside him for weeks.
Real Madrid manager, Carlo Ancelotti, called on Chicharito for some last minute offense in hopes of reversing Real's fortunes in the final 10 minutes of their match against Villareal. Chicharito is known for his offense, so if the Mexican player known as the "Little Pea," could find the back of the net, on a day that most of his teammates could not, it would bode well for his future playing time.
In the 86th minute, it appeared that Chicharito had done exactly that. Hernandez was streaking towards the goal when he was suddenly pushed from behind by Villareal defender, Eric Bailly. However, the head official, referee Jose Luis Gonzalez refused to blow the whistle and therefore no penalty kick was awarded to Chicharito.
With frustrations boiling over due to the no-call decision, Chicharito got up and as he jogged back on to the pitch, he could be seen on television hurling horrible insults that only Mexicans would know, "Que te pasa, Chinga a tu puta madre, carbon!" Chicharito was shown visibly yelling at Bailly before the defender shoved Hernandez.
Chicharito refused to comment on the incident after the match, but his own teammate, Portugal's Pepe, came to his defense.
"I told the referee that he had to whistle for the penalty on Chicharito," Pepe told the media after the game. "Villareal are a good team and fight a lot. They ran a lot and hampered our work. We fought against a good team, who were well-organized, but we should have fought more, although I think we moved the ball around well and created many chances."
The 1-1 draw leaves the door open for Barcelona to catch the La Liga leaders as the Catalan club is now just two points behind them in the standings. Watch the video of Chicharito's antics below and tell us if you think he said what we think he said.
© 2023 Latin Times. All rights reserved. Do not reproduce without permission.