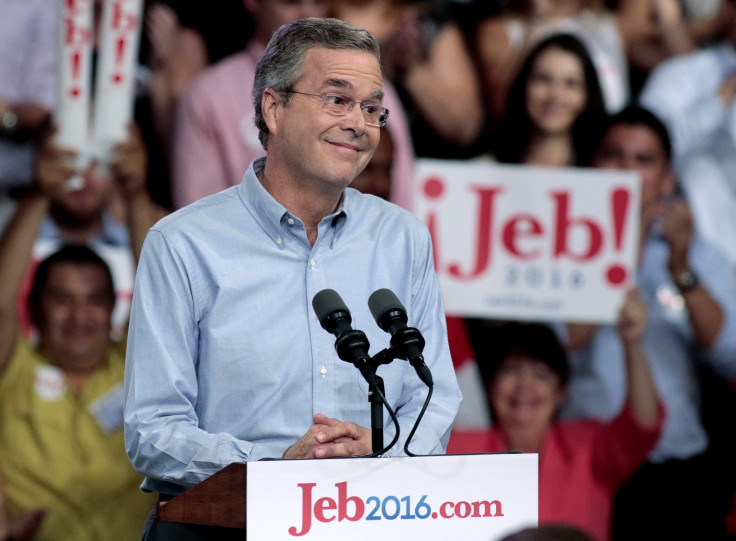 Jeb Bush finally announced on Monday that he's running for president, joining more than a dozen Republicans in what will be a rough primary battle. The former Florida governor made his announcement from Miami, where his Floridian rival Sen. Marco Rubio announced a few weeks earlier. In his speech, he wildcards into the race: a rare embrace of multiculturalism, support for certain social safety nets (a.k.a. welfare) and a promise to pass "meaningful immigration reform." Based on his positions, pundits speculate that Jeb Bush is too liberal to win his party's nomination. But that's just what Bush looks like on paper.
In person, Jeb Bush was extremely awkward. In a long string of appearances, endorsements and songs, Jeb's campaign announcement danced the many minefields in his campaign. His wife Columba isn't comfortable with public speaking. His daughter has a string of drug convictions. His brother George W. Bush is often cited as one of the worst U.S. president. That last one -- a brother who oversaw America's worst security attack, financial collapse and other calamities -- was the most awkward. Despite never mentioning George W. Bush and even aiming to downplay the "Bush" surname in general, anyone familiar with "W." could see his absence lurking everywhere. Mixed with thumping Ranchera music, historical flubs about Cuba and diplomacy-themed romantic innuendo George W. Bush helped build these five awkward moments.
1) Jeb Bush !:Even before the candidate stepped on stage, the theme of his campaign speech seemed to be "do not mention George W. Bush." It started with the unveiling of his campaign logo, a big "Jeb!" in red letters. "'Dissociation!' #JebBush unveils logo that replaces awkward last name with fun punctuation mark," Tweeted Shannon Gormley of the Ottawa Citizen. (Others pointed out that Jeb Bush has been using a variation of this logo since before his brother was President). The crowd got trained quickly, chanting Jeb! Jeb! Jeb! and omitting the cumbersome Bush name.
2) Musical Hispandering: Blaring Ranchera music, Jeb Bush's venue sounded at times like Monterrey on a Friday night, except that most people were white and not dancing. Whoever selected the set didn't expect the audience to understand the lyrics. One of the Spanish-language songs performed acoustically by the Cuban-American Chirino sisters was about a woman loving her man despite past infidelities.
In fact, a much of Jeb's bilingual event was awkward.
3 Cuban Expat Historical Revisionists: "Let's celebrate freedom tonight," said Willy Chirino -- father of the Chirino sisters -- "In our native Cuba that opportunity hasn't happened in the last 55 years," implying that the Castro regime ended Democracy in Cuba. WRONG. Cubans haven't voted in an election 1952, when a U.S.-backed dictator staged a coup.
4 Dynasty Dig: It might not have been wise for Jeb Bush to be taking shots at "elites" and "Washington" with a father and brother who've both served as president. Later in his speech, Jeb Decided to push to full-throttle awkward by saying that "The presidency should not be passed on from one liberal to the next." Excuse me? Should it be passed from father, to son, to brother? He was digging himself a hole. And don't just take it from us. Take it from this guy...
... and this guy...
... and these partisan guys...
5) ¡Aye, Mamacita! Jeb Bush is proud to married to an Mexican immigrant, his wife Columba Bush. That's awesome. Yet sometimes he has an awkward way of showing it, like on Monday when he called his romance and example of"Cross-border outreach." *Queue Archer voice* PHRASING!
"In 1971, 8 years before then-candidate Ronald Reagan said that we should stop thinking of our neighbors as foreigners, I was ahead of my time in cross-border outreach." (The rest of the quote is actually very sweet.) "Across a plaza, I saw a girl. She spoke only a little English. My Spanish was okay but not that great. With some intensive study, we got that barrier out of the way in a hurry. In the short version, it has been a gracious walk through the years with the former Columba Garnica de Gallo."
© 2023 Latin Times. All rights reserved. Do not reproduce without permission.