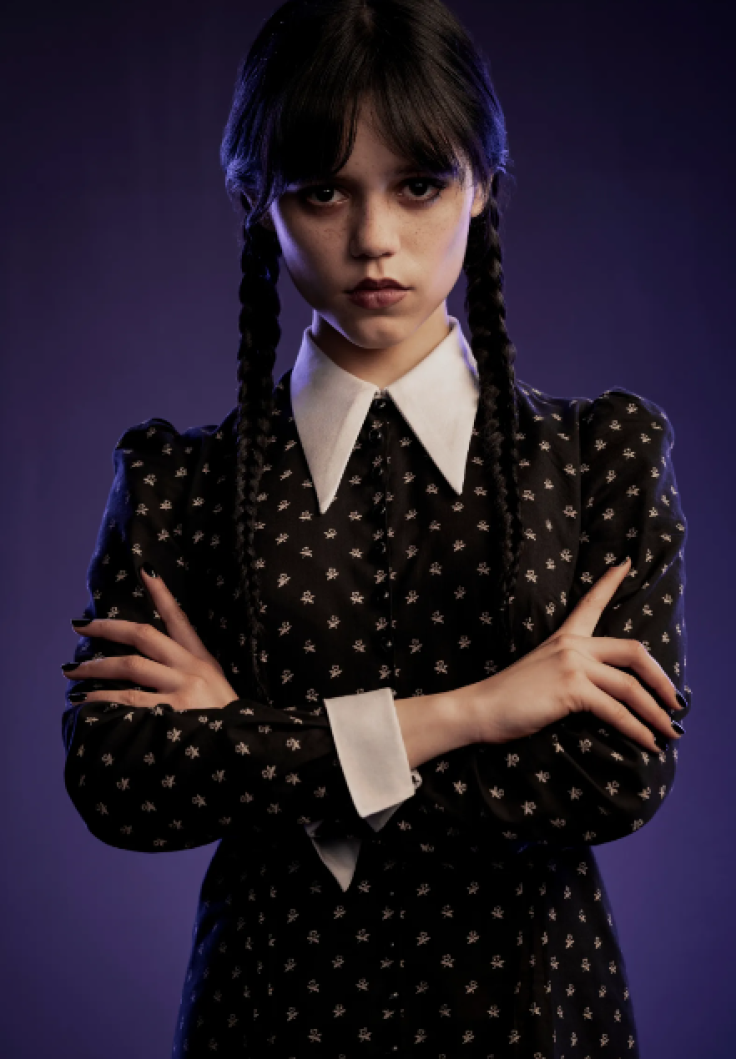 'Wednesday' Addams doesn't only break hearts, but breaks massive opening records. After much anticipation 'Wednesday', the new comedic horror series from Tim Burton (Beetlejuice, Edward Scissorhands) released last week on November 23rd - appropriately on a Wednesday. The Addams Family Netflix series centered around Wednesday Addams and starring Jenna Ortega is breaking Netflix viewing records. Fans and celebrities alike are raving about the series, and Jenna's outstanding performance as the eldest child in the peculiar family calling her "brilliant" and the "Wednesday of our generation" and accolades such as "she was born to play this role."
Wednesday has shattered a new record for Netflix. The supernatural series drew a whopping 341.23M hours viewed in its first week on the streaming app, soaring to the top of the TV charts. Tim Burton directs the delightfully dark and mysterious series starring up and coming Gen-z actress Jenna Ortega, who first stole the show in "You" and is now mesmerizing audiences with her Wednesday performance catapulting her career. The series comes from Alfred Gough and Miles Millar, the creators of "Smallville." Smart, sarcastic and a little dead inside, Wednesday Addams investigates a murder spree while making new friends — and foes — at Nevermore Academy.
While it was evident that Wednesday was performing well for Netflix, #1 in nearly all countries and completely taking over social media everywhere from Twitter to Tik Tok with memes, fan videos and dances inspired by the show, it is now proven with data. Wednesday just broke a pretty big record for Netflix, which should secure a second season or more. With its massive success from critics and huge audience ratings, fans are eagerly waiting for news of an announcement for more seasons to come.
On Tuesday (November 29), Netflix officially announced that one of its latest series - Wednesday, has broken the record for the most hours viewed in a week for an English-language series with 341.2 million hours. According to The Hollywood Reporter, that number beats the 335 million hours that season four of Stranger Things racked up earlier this year.
Wednesday now holds the record for the most hours viewed in a week for any English-language TV series on Netflix. Impressively, beating Stranger Things Season 4, which previously held the title. At its peak, the first seven episodes of Stranger Things 4 notched 335M hours viewed in their first full week on the service (and second week in the Top 10). The current all-time record holder is Squid Games with 571.8M hours viewed in its peak week on Netflix.
Without a doubt, Ortega's portrayal of the tortured writer Wednesday Addams is phenomenal and her performance unequivocally carries the show. Ortega, whose father is Mexican and mother is of Mexican and Puerto Rican descent, embodies the character's deadpan wit, morbid interests and sarcastic gloomy personality. She is a loner and hides her emotions behind a cold facade.
The series follows the titular character as a student at Nevermore Academy- an academic institution for outcasts, freaks and monsters. Wednesday is sent off to Nevermore after she gets expelled from her public high school for dropping a bag full of piranhas in the swimming pool during water polo practice. Nevermore is the same school for "outcasts" that her parents Morticia (Catherine Zeta-Jones) and Gomez (Luis Guzman) attended during their youth. At Nevermore, Wednesday attempts to master her newfound psychic ability, solve a murder mystery, and capture a monstrous creature that has been terrorizing the town - all while navigating her new relationships with her classmates.
The series also stars Gwendoline Christie, Jamie McShane, Percy Hynes White), Hunter Doohan, Emma Myers, Joy Sunday, Naomi J Ogawa, Moosa Mostafa, Georgie Farmer, Riki Lindhome. Christina Ricci also appears in the series, as well as Catherine Zeta-Jones, Luis Guzmán, Fred Arimisen and Isaac Ordonez. Wednesday is directed and executive produced by Tim Burton, with creators/showrunners Al Gough and Miles Millar.
'Wednesday' is full of easter eggs and pays homage to the original series and films. Fan favorite goth girl, Christina Ricci, the original Wednesday Addams plays a pretty prominient role, and longtime fans as well as new fans will surely enjoy this series. The numbers have proven it's a fan-favorite and a huge success.
© 2023 Latin Times. All rights reserved. Do not reproduce without permission.