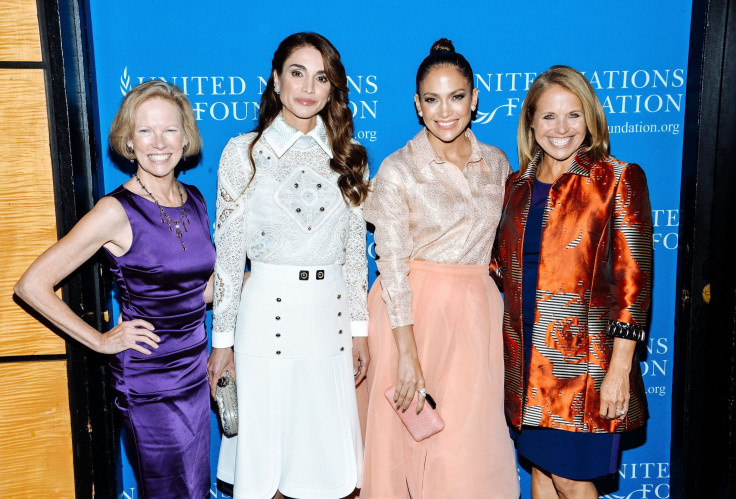 Add one more title to actress, singer and producer Jennifer Lopez, who was just named the first-ever global advocate for girls and women at the United Nations Foundation, which is a nonprofit dedicated to building support for and advancing the causes of the U.N. "Becoming a mother has made me more aware of the struggles of women and children throughout the world. While some progress has been made, there is still a lot more work that needs to be done for gender equality and universal access to medical care," Lopez explained. "I am happy to be joining the UN Foundation and eager to lend my voice and ensure that all girls and women are safe, healthy, educated, and empowered."
A press release by the Foundation indicated the singer will "focus on mobilizing action to address major challenges for girls and women around the world, in support of the U.N. secretary-general's Every Woman, Every Child initiative." President and CEO of the UN Foundation, Kathy Calvin, says it's completely unacceptable that "no country not a single country in the world has achieved gender equality" and everyone suffers because of it. "We are thrilled to work with Jennifer Lopez, who will lend her powerful voice to one of the most important causes of our generation – empowering girls and women," Calvin said.
Seems like the first mission for Lopez will be to focus on public awareness around the UN Foundation's joint initiative with the Mobile Alliance for Maternal Action (MAMA), a program that delivers important health information to new and expecting mums via mobile phones. The songstress isn't entirely new to matters like this, as she and her sister Lynda co-founded a nonprofit called the Lopez Family Foundation, which focuses on improving women and children's access to healthcare.
© 2023 Latin Times. All rights reserved. Do not reproduce without permission.