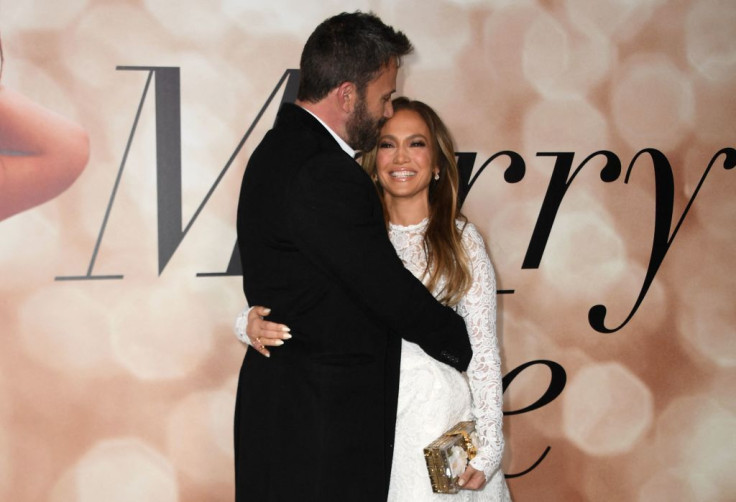 People on social media are still talking about actor Ben Affleck's facial expressions during the Grammys ceremony, but his wife Jennifer Lopez is reportedly "over it."
A source told Page Six that the singer and actress knows how much Affleck "hates awards shows and was over it the very next day."
Netizens thought the worst, but the source said that everything is fine.
But the insider quipped that might "we suggest for the next awards show she bring her stylist or sister with her? Less headaches."
Affleck became a meme on social media for seemingly looking "miserable" at the music event on Sunday.
Lip readers even weighed in on the stars' conversation, which was caught on camera. A seat filler gave their account of the couple's interaction at the show.
The seat filler claimed that Lopez was showing her husband that viewers were pointing out his gloomy looks.
Influencer @almostannna said in a TikTok video that Lopez showed Affleck the phone and was like, "Oh my God, honey, look at this meme circulating about you!" And he said, "Oh God, this again." It was like, he knew "during the performance that he was a meme," and he chose "just not to change his expression!"
The TikToker added that while the actor looked like he would rather be anywhere else, the couple were "super lovey-dovey, like their hands were always intertwined."
Meanwhile, Affleck featured in a Dunkin' commercial as one of the doughnut franchise's employees, reported Harper's Bazaar.
In the clip, which aired during the Super Bowl, he fields orders from real-life customers through a headset while working in a drive-thru in Masachussetts.
He greets and says at the start of the advertisement, "How can it be this inexpensive and good?"
Throughout the clip, he has funny interactions with customers. They all look surprised to find the "Gone Girl" star at the register.
The last car to pull up in the drive-thru is driven by Lopez, who looks shocked to find him behind the counter. She asks him what he was doing there. Lopez finally tells him to grab a glazed donut.
Reports that the two would be starring in a Dunkin' advertisement first came out after they were seen at one of the doughnut franchise's local storefronts in Massachusetts in January.
Fans took photos and videos of Affleck, who served coffee in a drive-thru while wearing his own Dunkin' uniform.
As for Lopez, she sipped on an iced coffee while wearing a white puffer jacket and turtleneck.
© 2023 Latin Times. All rights reserved. Do not reproduce without permission.