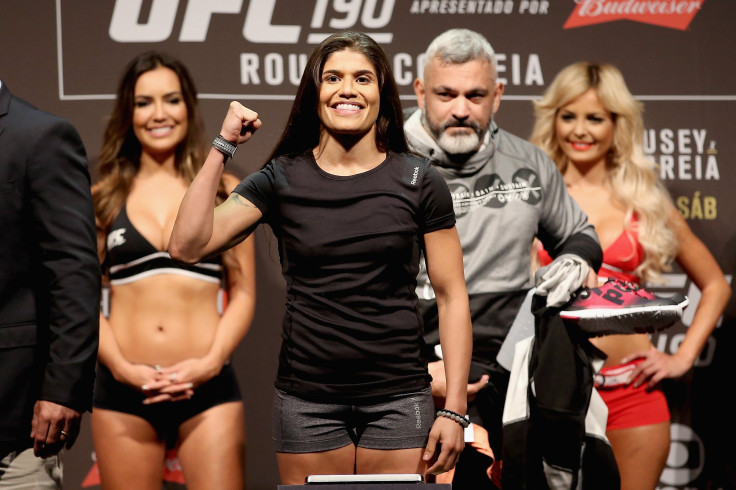 Former WSOF strawweight champion, Jessica Aguilar, made her UFC debut last August in UFC 190, where she put up a good fight against Claudia Gadelha but lost by decision. The Mexican-born MMA pioneer, who currently ranks in UFC's 13th position, is hoping her upcoming match against Juliana Lima in UFC 197 on April 23 will be an opportunity for her to jump into the top 10 of her division.
"I train with one of the best teams in the world," Jessica said about her current training and preparation for the fight. "I've been working a lot on my technique, tightening up my technique so, you know, I want everyone to see the old Jessica that used to go in there, and stay active, and finish the fights. I'm going to focus on staying healthy and, you know, feeling good, and being strong, and being in class and training hard."
The 33-year-old fighter, who is openly gay and has been recognized by GLAAD as an active role model in the LGBT community, showed Latin Times the human behind the mixed martial artist, and shared a little bit about her Mexican roots, her personal life and her volunteer work at the Miami Children's Hospital.
"When I was growing up I lost my father when I was 6 years old and my older brother in a car accident when I was 16, so our family has been through a lot of tragedy and we've had a lot of people who have helped us in some way," JAG told Latin Times about her motivation to volunteer at the Miami Children's Hospital. "I love to give back to the community, and it's more about the kids […] So, there are different activities that I do with them and it just puts a smile on their face because, you know, these kids maybe could not be here tomorrow…so it's about putting a smile on their face and letting them know that there's people to give them a better day."
Throughout the interview, we found out that Jessica came to the U.S. when she was just 3 years old, "My parents came here for better opportunity. I was raised in Houston, Texas. My father brought the family here to give my mother and us a better life, and more opportunities." When we asked her about her opinion about the situation America is living right now she simply replied, "I feel like everyone has the right to come here for better living and better opportunities. I don't want to get into it too much, but it's just sad what's going on now. I just feel like everyone has the same rights."
Aguilar, who named Megumi Fuji and Georges St-Pierre as two of her idols, also expressed her opinion on Ronda Rousey's recent comments about having suicidal thoughts after losing to Holly Holm last year, "It's good that she speaks out and you know, lets the world know that she is also human and she also loses. She is not a super hero, she is human like everyone and we all make mistakes, we all lose. So, it's good that she puts that message out there."
Finally, Jessica asked us to make sure to tell you to follow her on social media @jagatt and wanted to share a special message with you guys: "I'm grateful for the support, and to my Latin fans continue supporting me because I'll keep representing you as strongly as possible. And the UFC 197, April 23 so keep your eye out for me and send me some good energy. But again, just very grateful to have the opportunity to represent Latinas and you know, I'll continue fighting as hard as I can for you all."
© 2023 Latin Times. All rights reserved. Do not reproduce without permission.