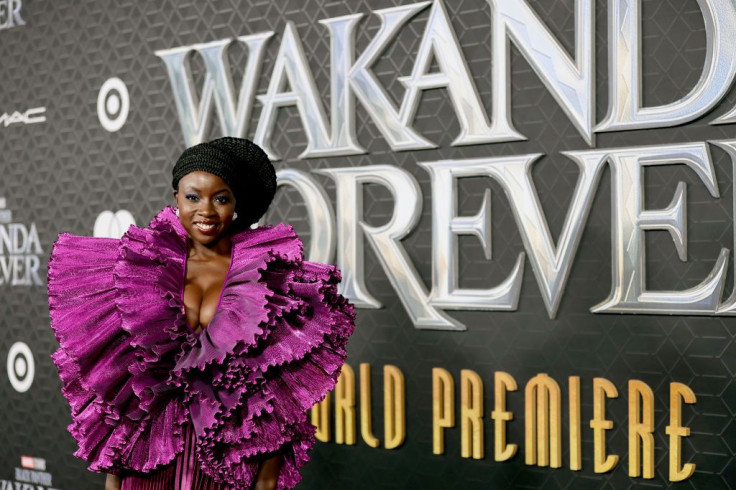 Wednesday night was the "purple" carpet world premiere of Marvel Studios Black Panther Wakanda Forever. The highly-anticipated sequel which releases in theaters November 11, 2022 is the last film set in Phase 4 of the Marvel Cinematic Universe. Stars, filmmakers, special guests and loyal fans hit the El Capitan Theatre in Hollywood for the event. TV Host Jimmy Kimmel had a surprise treat for fans last night with some very special guests of the Dora Milaje, exclusive clips and surprise "sneak peeks" for some lucky fans on Hollywood Boulevard.
Stars Letitia Wright, Lupita Nyong'o, and Danai Gurira joined Jimmy Kimmel on Wednesday night to talk about the film and keeping the late Chadwick Boseman's memory alive. Kimmel joked with the ladies of Wakanda and tried to get responses out of them on spoilers and the well-known hush hush Marvel media training. The ladies talked about how many people they are bringing to the premiere, Rihanna returning to music, Danai keeping one of her Dora spears, training with music, set rumors, and the funniest places fans "Wakanda Salute."
Kimmel also shared two exclusive clips from Wakanda Forever with a first look at Dominique Thorne as Riri Williams - Marvel's teenage tech genius Iron Heart !
The special guests Lupita Nyong'o, Danai Gurira and Letitia Wright (Black Panther: Wakanda Forever) surprised fans on Hollywood Blvd who thought they were getting a "sneak peek" of the movie.
Black Panther: Wakanda Forever Releases November 11, 2022
© 2023 Latin Times. All rights reserved. Do not reproduce without permission.