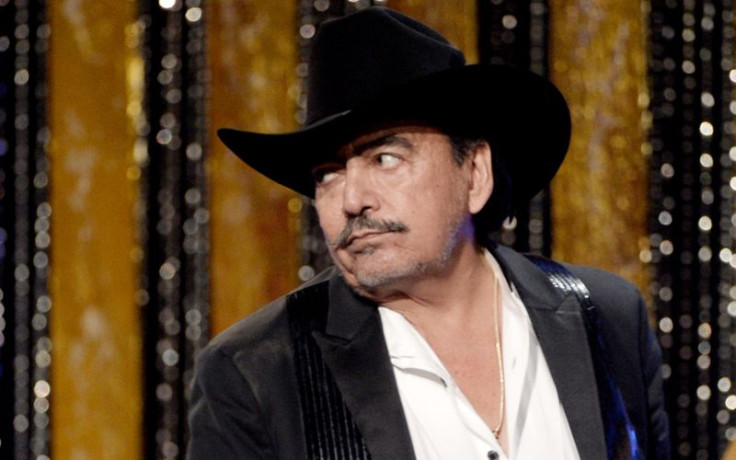 Joan Sebastian has revealed that he is battling cancer for the fourth time during his performances in Zacatecas. The 62-year-old singer told morning show "Hoy" that he had undergone chemotherapy prior to his presentations and still went through with the show. "We booked these dates two months ago, I didn't know that I would need chemotherapy again," he said. "I am very conscious that this is something I have to deal with and I have fortunately been able to pull through." The "King Of Jaripeo" had difficulties going up the stairs and remained seated during his number, which he acknowledged to reporters saying, "I felt weak on stage."
Although the "Secreto de Amor" singer is going through a difficult time he has no plans on leaving the limelight. "The love and claps from the audience is what keeps me going, I will not be retiring," he said. "I am very aware of the chemotherapy experience." In 1999 Joan Sebastian was diagnosed with cancer in the bones and it came back in 2007 and 2012. He did not specify what type of cancer has has now. The "Tatuajes" hitmaker also sent his best wishes to Juan Gabriel who has been battling pneumonia for the past week in a Las Vegas hospital. "It's been a while since I've seen Alberto. He and I started this career at the same time, we have each been successful," he said. "As a colleague and a friend I admire and respect him."
In February of this year the "Lobo Domesticado" singer said he was retiring from the "jaripeos" shows that has him singing in a rodeo atop a horse. "I am not retiring, I am saying goodbye to the rodeos only. I am 62 years old and I am satisfied with what I have accomplished, but I know I am not getting younger," he told reporters in his Las Palmas ranch. "I want to retire on a high, I'm retiring from horses because I cannot mount anymore. There are various indicators and some members of my family suffer too much, it's the moment." At the time he emphasized he did not have cancer saying, "I had left for health reasons with a non-encouraging diagnostic and I found out that I needed the audience and the marvelous things that happen with that feedback of so much applause," he said. "In the last 15 years I've had three batterings and fortunately we've pulled through. I have learned how to take the bull by the horns and base myself on reality. As a cancer survivor I know it can come back again and every time it can be more recurrent, I am prepared to beat it every time it returns."
© 2023 Latin Times. All rights reserved. Do not reproduce without permission.