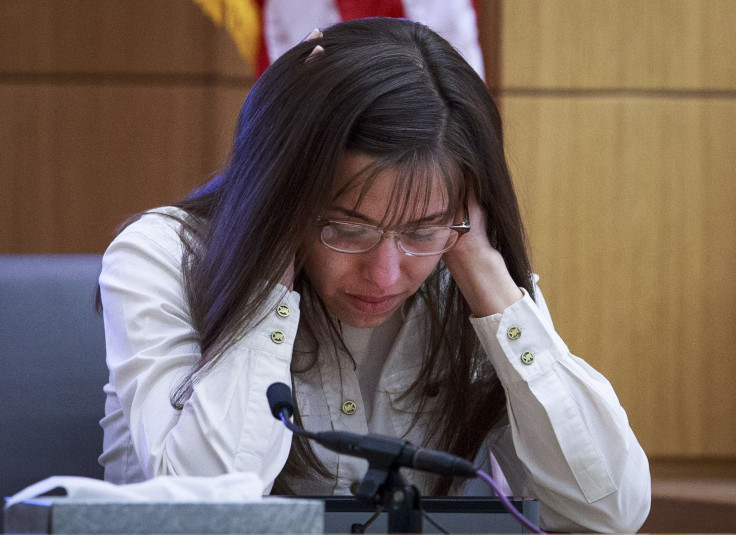 Jodi Arias will be sentenced for the 2008 murder of her former boyfriend Travis Alexander in February 2014. The brother of the victim Steven Alexander posted the news to the Facebook page "Justice for Travis Alexander." In May 2013 Arias was convicted of the first degree murder of Travis Alexander. The same jury that had no issue finding her guilty could not decide if Arias should be sentenced to life in prison or death. The Arias trial was broadcast live across the nation making the Latina this year's Casey Anthony.
From Steven Alexander -- "Letting everybody know, the trial isn't due to start until mid-February. We believe this is a tactic to try and get us to throw in the towel. We will not! I say again it won't happen. Our family will come together and see it through until it is finished. There is a monster that haunts us, but once the correct sentence is given, it's her who will be haunted until the most the most humane punishment comes to her. Nothing compared to the sentence she gave to a good man. Anyhow, the entire Alexander family thanks all of you. Thank you for having our backs."
Since the end of May, when the judge dismissed the jury, trial watchers have been eager to know when Arias would be sentenced. Hearing after hearing was delayed, others lasted only a few moments and America hung on to their seats as though they were watching reality TV and not a murder trial. Due to all of the frenzied media coverage Judge Sherry Stephens has banned live TV coverage during Arias' sentencing. Travis Alexander was found dead in his home in 2008 stabbed 30 times with his throat slashed and a bullet to the head.
Almost immediately after police began to investigate the homicide friends of Alexander pointed investigators in Arias' direction. The formerly blonde amateur photographer was called a stalker and obsessive by Alexander's friends. In the early stages of the investigation Arias expressed surprise that Alexander was killed. She even produced an alibi but investigators would find evidence that placed Jodi Arias at the murder scene. Bloody hand prints, DNA and photographs would link Arias to the crime. When she was questioned as a suspect Arias lied about being in Alexander's home on the night of the murder.
When a camera was found in Alexander's washing machine time stamps on the pictures would prove that Arias was in the home the night her one time lover was killed. The photographs were explicit and erotic in nature proving the victim and the accused had an on and off relationship. Caught in her lie Arias told a story about masked men breaking into the home killing Alexander but leaving her alive. When that story was not believed Arias admitted she killed Alexander but said she did so in self-defense.
Arias tried to prove her relationship with Alexander was abusive and that she did only as he said because she was afraid of him. The jury did not believe her and in witness testimony Arias came off as jealous and controlling. When Arias was first found guilty of murder she did an interview in which she said she would prefer to get the death penalty. To Arias death equaled freedom as opposed to a long and healthy life behind bars. When it came time to address the jury Arias asked for life saying she did not wish to cause her family any more pain.
More From Latin Times
Jodi Arias And Casey Anthony Similarities: Why Did These Women Capture The Attention Of A Nation [EXPERT INTERVIEW AND VIDEO]
Jodi Arias Artwork For Sale: See Limited Edition Prints She's Selling From Jail [PHOTOS]
© 2023 Latin Times. All rights reserved. Do not reproduce without permission.