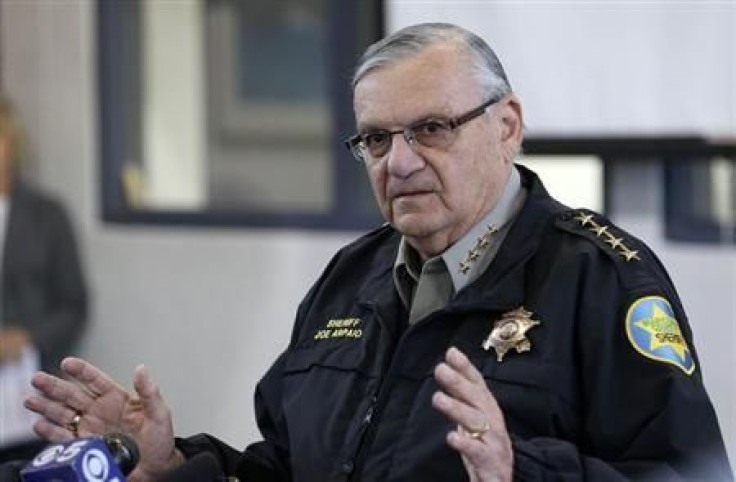 U.S. District Court Judge Murray Snow ruled on Friday that the office of Joe Arpaio, the Maricopa County, Arizona sheriff who came to fame nationwide for his anti-illegal immigration zeal and apparent disdain for many of the people his agency apprehended, systematically profiled Latinos and made use of illegal detentions during its immigration patrols. Arpaio's lead attorney Tim Snow indicated the agency would comply with the law but that they would also appeal the decision, denying that Arpaio's office ever used race as a basis for enforcement decisions.
The federal civil trial took place last summer after five Hispanic drivers brought a suit against Arpaio and his office, saying they had been pulled over by deputies because of their ethnicity. The suit charged that deputies made decisions on where to carry out enforcement operations based on where Latinos were prevalent in the population. It also said that the office often acted on citizens' complaints that groups of brown-skinned people were congregating and speaking Spanish. Arpaio denied these claims.
RELATED:
Arellano Felix, Drug Cartel Leader, Pleads Guilty In US Court
Venezuelan President Nicolas Maduro Will Create New Workers' Militia; Does He Fear the Military?
Rep. Steve King Laments Presence Of Undocumented DREAMers At House Hearing
Judge Snow's ruling bars the office of the self-proclaimed "toughest sheriff in America" from using "race or Latino ancestry" when deciding whether or not to pull over vehicles with Latino occupants as well as from using race as a means of ascertaining whether or not they may be in the United States without authorization. It also prohibits deputies from reporting Latino occupants of vehicles to federal immigration authorities or detaining them unless there is more than a "reasonable belief" that they are in the country illegally - for the deputies to detain an individual, ruled the judge, they must have reasonable suspicion that a vehicle's occupants may be violating Arizona human-trafficking and employment laws or committing other crimes.
BBC News writes that at one point during the seven-day trial, Sheriff Arpaio had testified that his office didn't check the immigration status of white people because he assumed they were in the country legally.
"The evidence demonstrates that the [Maricopa County Sheriff's Office] specifically equated being a Hispanic or Mexican (as opposed to Caucasian or African-American) day labourer with being an unauthorized alien," Judge Snow wrote in a 142-page decision.
News of the decision was received as an important victory for advocates of immigrants' rights and civil rights groups. Cecilia D. Wang, director of the ACLU Immigrants' Right Project, told FOX News, "For too long the sheriff has been victimizing the people he's meant to serve with his discriminatory policy. Today we're seeing justice for everyone in the county."
© 2023 Latin Times. All rights reserved. Do not reproduce without permission.