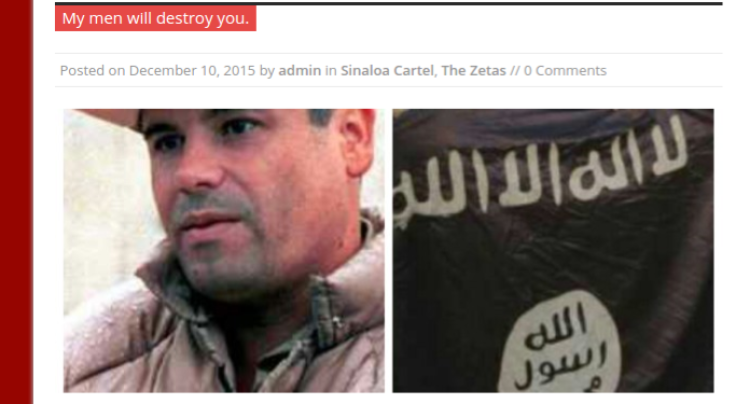 Imagine ISIS, trying to infiltrate the U.S. border, and alleged Sinaloa cartel boss Joquín 'El Chapo' Guzmán ordering his cartel hitmen to beat them back. In the era of internet news and deep mistrust of official sources, some narratives are simply too seductive. Where states like the U.S. and France have failed to counter the terrorist threat of ISIS (also known as the Islamic State, ISIL, and Daesh), one escaped convict with an army of sicario outlaws will secure the West against a Middle Eastern Threat, the story goes.
"You [ISIS] are not soldiers. You are nothing but lowly p*ssies. Your god cannot save you from the true terror that my men will levy at you if you continue to impact my operation," Steve Charnock of the website Thug Life Videos reportedly wrote on Nov. 30th, crediting the words to Guzmán.
According to the Daily Mail, Charnock is the ultimate source of the rumor. It was also promulgated on cartelblog.com, a source cited by many online news organizations, including the tabloids like the Mirror, state-funded media like TeleSur and U.S.-based news sites like Fox News and Business Insider. We can't prove that El Chapo is not starting a holy war with ISIS, but we can say with confidence that there's no known evidence to back this up.
For some, El Chapo is a folk hero, and the idea that he might fight terrorism where state actors have failed is attractive to the pulse of the English and Spanish-speaking internet. It's interesting that Spanish-language outlets were citing Cartel blog; there are so many hard-hitting Mexican outlets that would have gotten this news first if it were real. On a darker note, the rumor also pits West against the Orient and believers of one religion (ISIS' medieval Islam) against another (Mexico's Catholic soldiers).
Like the rumor about Guzmán putting out a murder contract on Donald Trump, this report is also likely to be false, though irresistible to many. Maybe it would make a good movie.
Why do you find the reports of Guzmán fighting ISIS to be a compelling story? What's the wildest El Chapo story you can make up? Show us your thoughts and your creativity in the comments and we'll curate them for a future article. We promise we won't report the fantasies as news.
© 2023 Latin Times. All rights reserved. Do not reproduce without permission.