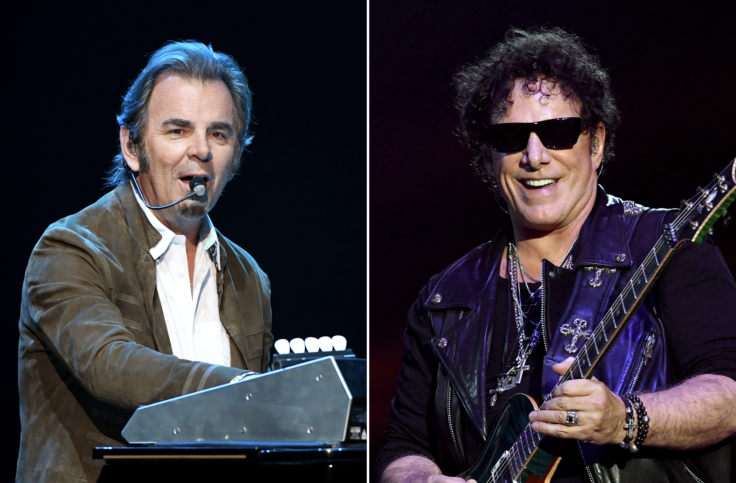 The men of the longstanding rock band Journey are at odds over a Mar-a-Lago performance. The band's Keyboardist Jonathan Cain has been served a cease-and-desist order by bandmate and Guitarist Neal Schonafter playing "Don't Stop Believin''" last month at Donald Trump's resort.
The song, re-popularized when used for the season finale of "The Sopranos," was written by Schon, Cain and Singer and former bandmate Steve Perry in 1981.
A snippet of Cain's Mar-a-largo performance was recorded. In the video, Cain playing the keyboard with Rep. Marjorie Taylor Greene, Donald Trump Jr.'s fiancée Kimberly Guilfoyle and former Arizona gubernatorial candidate Kari Lake singing in the background can be seen. We also catch a glimpse of Trump Jr. filming and Trump himself standing expressionless in the crowd.
Cain has a had a longtime relationship with the 45th president. His wife, Paula White-Cain, is a televangelist and has acted as Trump's spiritual advisor.
According to the order, by Cain performing their song and putting the performance on public display, it damages and politicizes the group.
"Although Mr. Cain is free to express his personal beliefs and associations, when he does that on behalf of Journey or for the band, such conduct is extremely deleterious to the Journey brand as it polarizes the band's fans and outreach. Journey is not, and should not be, political," read the letter. "Mr. Cain's unauthorized affiliation of Journey with the politics of Donald Trump has the band's fans up in arms, as is demonstrated by a sample of the attached emails and Twitter comments. This has caused, and continues to cause, irreparable harm to the Journey brand, its fan base and earning potential, especially in light of the forthcoming tour."
A representative from Cain's camp responded saying "Schon is just frustrated that he keeps losing in court and is now falsely claiming the song has been used at political rallies."
Cain and Schon were in court only a month ago for a different matter. The two went to court over a dispute regarding an American Express card. Schon sued Cain, claiming that the band's keyboardist set up the express card without telling Schon and allegedly "millions of Journey funds have flowed through it," according to the lawsuit.
This is not the first time Schon, or an artist in general, has tried to prevent their music from being associated with Trump and politics.
In 2020, Schon and Perry expressed their disapproval of their song being used in the political arena.
Schon joins this extensive list of musicians refusing to be associated with Trump musically. Other artists include the Rollings Stones, Aerosmith, Tom Petty, Rihanna, Adele, Queen and more.
© 2023 Latin Times. All rights reserved. Do not reproduce without permission.