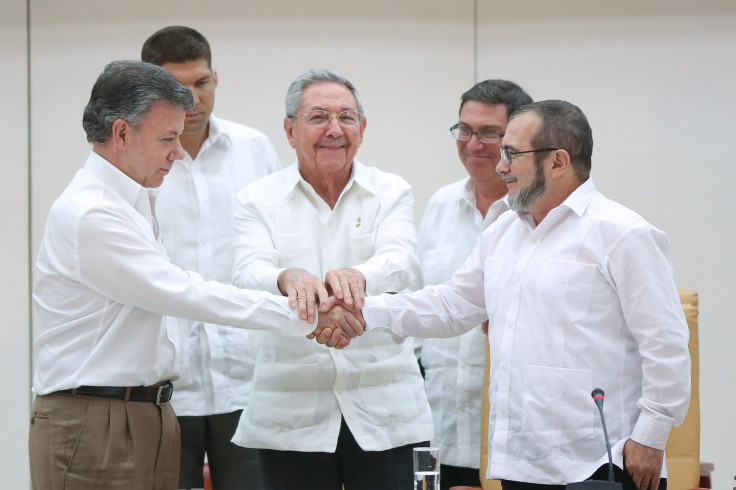 It's only October but Juan Manuel Santos already has his New Year's Resolution: peace with the Revolutionary Armed Forces of Colombia ( FARC ) who have waged a bloody civil war against his government for over 50 years. On Wednesday, Santos made public a ceasefire proposal , an agreement, essentially, to stop shooting each other. Sounds simple, right? But keeping guns silent won't be an easy New Year's resolution for the two sides of this inter-generational conflict. Many Colombians still see the FARC as terrorists, and many guerrillas consider government officials war criminals.
"We are making an effort so that, from now until December 31st we can bring this conflict to an end, and thus be able to decree a ceasefire that is bilateral and internationally verifiable starting January 1st," Santos said, according to BluRadio .
Here's a made-up statistic: 90 percent of people who made New Year's resolutions for 2015 have already broken them, most by March. And while bringing peace to Colombia isn't impossible, it is infinitely more difficult reading more, getting organized or losing 10 pounds .
Ceasefire in a warzone isn't the kind of New Year's Resolution that you try to achieve alone. United Nations Humanitarian Coordinator in Colombia, Fabrizio Hochschild, pledged to support the groundwork for the ceasefire to be successful.
"We think [Santos'] announcement is very important and we celebrate it. It's another signal that the peace process is advancing at a rapid pace and towards the definitive end of the conflict," Hochschild said .
Santos and Timoleon Jimenez -- the lead negotiator of the FARC -- will have international support to keep their troops on a tight leash, and let the already productive peace talks continue.
They've checked off two of the scientifically-proven 5 steps to reaching New Year's resolutions, which I'm borrowing from Dr. Jordan D. Metzl's article for Slate " This Year Will Be the Year ."
Step 1 -- You need a goal! Check -- "peace."
Step 2 -- Be realistic . Check -- "stop shooting each other." Outstanding issues like combating the drug trade and trying war criminals don't have to all happen at the same time.
Colombian negotiators face greater challenges that weight watchers but they've got bigger incentives, too. Aside from the obvious reduction in deaths from death squads, maiming from minefields and rampant corruption fueled by the drug trade there's a personal incentive for the lead negotiators: the glint of a Nobel Peace Prize around their necks.
Rumors swirled that Santos and Jimenez might get the prize this year, in the preemptive Obama style award that seeks to compel action ' the vision of a world free from nuclear weapons" more than reward it.
Instead, the Prize went to the coalition that ushered a new era of freedom into Tunisia, the lauded quartet. The lesson for Santos and Jimenez? It's not just thought that counts -- actions matter, too.
What actions will help them be successful in 2016? We know that seasoned political professionals will rely on their deep toolboxes of professional diplomacy. But they might also heed this advice.
Step 3 -- Get social . Many Colombians still call the FARC or the government "terrorists," and plenty of trigger-happy commanders on both sides of the conflict have thwarted ceasefires in the past. Imagine those soldiers blogging or even jogging together.
Step 4 -- Smile
Step 5 -- If you commit, you won't quit. This is where guys like Fabrizio Hochschild and organizations like the U.N. come in handy. Colombian peace talks have already been helped by friendly eyes keeping those commitments, like Cuba's President Raul Castro.
Dr. Jordan D. Metzl's was talking about his ironman fitness class, not ending a civil war, but his words might serve Colombians as well.
"Making yourself accountable to a third party increases your chance of success—guilt works wonders."
According to Slate, " Jordan D. Metzl is a sports medicine physician at Hospital for Special Surgery in New York City. Dr. Jordan Metzl's Running Strong is the first health book to use augmented reality. Follow him on Twitter ." Dr. Metzl was not involved in writing this article, so if you have any criticisms, send them to me instead @viaCedar .
© 2023 Latin Times. All rights reserved. Do not reproduce without permission.