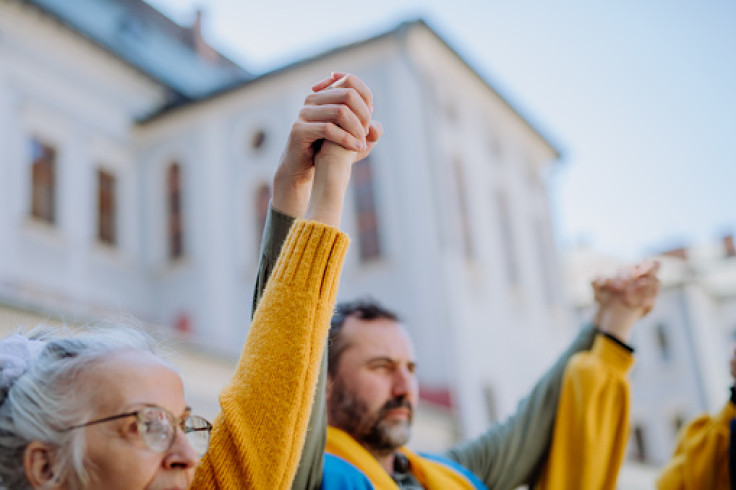 More than 200 individuals, clutching white roses, asters, and lilies, took to the streets of downtown Annapolis on Sunday morning.
They marched in remembrance of three Latino men who tragically lost their lives to a fatal shooting by a white neighbor just one week prior.
Their march served as a powerful demand for recognition that these killings were motivated by racism and urged lawmakers to ensure that the alleged perpetrators face appropriate consequences.
"This senseless act of violence was racially-motivated. And we want the world to know," said Julian Segovia, whose brother was slain in the mass shooting that injured three other people south of downtown Annapolis, The Baltimore Banner reported.
Mario Mireles, aged 27, his father Nicholas Mireles, aged 55, and their family friend, Christian Marlon Segovia, aged 25, tragically lost their lives during a horrifying incident.
The incident occurred at a birthday party for Mario's older brother, where their neighbor, Charles Robert Smith, aged 43, opened fire, targeting six individuals.
The Mireles family has revealed that Smith had been harassing them for years over parking issues.
According to the police, a confrontation took place between Smith, Mario Mireles, and Segovia on Paddington Place, their residential area, as a result of Smith's mother, Shirley Smith, calling parking enforcement to report a vehicle blocking their driveway.
During the altercation, Smith shot Mario Mireles and Segovia during a struggle over Smith's firearm. Shockingly, Smith then proceeded to stand over Mario Mireles, shooting him multiple times.
Afterward, Smith retreated into his home momentarily but soon reappeared with a rifle.
He fired shots from a front window at those who rushed to offer assistance, resulting in the death of Nicholas Mireles and the injury of three others: Rosalina Segovia, aged 29; Paul Johnson, aged 28; and Enner Canales-Hernandez, aged 26.
All three injured individuals received medical treatment at nearby hospitals, as reported by the police.
Smith has been charged with three counts of second-degree murder and other associated charges. He is currently being held without bail. Additionally, the families of the victims have urged the authorities to press charges against Shirley Smith, Charles Smith's mother.
In 2016, Shirley Smith filed for a peace order against Mario Mireles, alleging that he nearly hit her car while reversing out of his driveway.
Over the years, she had also reported Mario Mireles to the police for incidents such as throwing rocks at street signs, and she claimed that his family had threatened to sue her. The families of the deceased are seeking accountability for Shirley Smith's actions as well.
"We're afraid for our kids," said Ethel Wirth, Annapolis community leader who runs the Facebook group Se Fuerte Annapolis; the group aims to better connect Anne Arundel County Hispanic and Latino people with resources.
"The fact that he shot at him [Mario] and then come back at him to do it again ... it's a hate crime," she said. "We are scared our kids will be the next Mario Mireles."
An attorney representing Smith has claimed that he suffers from post-traumatic stress disorder (PTSD) due to his military service as a U.S. Army veteran.
However, Julian Segovia, addressing the crowd of demonstrators and elected officials during the march from the State House to Annapolis City Dock on Sunday morning, dismissed the notion that PTSD could serve as a sufficient excuse for the loss of three lives.
Julian Segovia emphasized that attributing the tragedy solely to PTSD was an inadequate explanation.
The issue of gun violence has deeply affected the Maryland capital, with the fatal shooting of five members of The Capital Gazette in their Annapolis newsroom in 2018 during Mayor Buckley's first term. Demonstrators highlighted the persistent problem of gun violence in Annapolis.
Mariana Segovia, addressing the demonstrators, shared that a detective investigating her brother's murder informed her on the day of his funeral that the crime lab technicians were unable to examine his cell phone and necklace due to their involvement in another shooting case, underscoring the ongoing challenges faced by law enforcement in handling multiple incidents.
"No one cares until it happens to them," Mariana Segovia, Christian Segovia Jr.'s sister, said.
"We heard about Columbine," and Sandy Hook, and The Capital, "and countless others," she went on. "And then the detective tells me one more."
State Sen. Sarah Elfreth, who represents south Anne Arundel County, where Smith committed the mass shooting, said "this was an act of..." before trailing off.
"They're still investigating if it was a hate crime," she finished. "Clearly, it terrorized a community. To shoot into a crowd ... it's unconscionable."
Elfreth, a Democratic representative, emphasized the importance of allowing sufficient time for the police and prosecutors to conduct a thorough investigation in order to build the strongest possible case.
She stressed the need for patience during this process.
Elfreth further expressed her commitment to the Hispanic and Latino communities in Anne Arundel, highlighting that they are not only neighbors but an integral part of the community that deserves protection.
Del. Joseline Peña-Melnyk, a member of the Maryland Legislative Latino Caucus who participated in the vigil, acknowledged the challenges faced by the hardworking Hispanic and Latino community, often overlooked and operating in the shadows.
Peña-Melnyk, a Democrat representing districts in Anne Arundel and Prince George's counties, revealed that the Latino caucus plans to meet with Anne Arundel County Executive Steuart Pittman and Annapolis officials in the upcoming week.
The goal of these discussions is to find intelligent and effective solutions while ensuring that the Latino community's voices are heard and represented at the table.
© 2023 Latin Times. All rights reserved. Do not reproduce without permission.