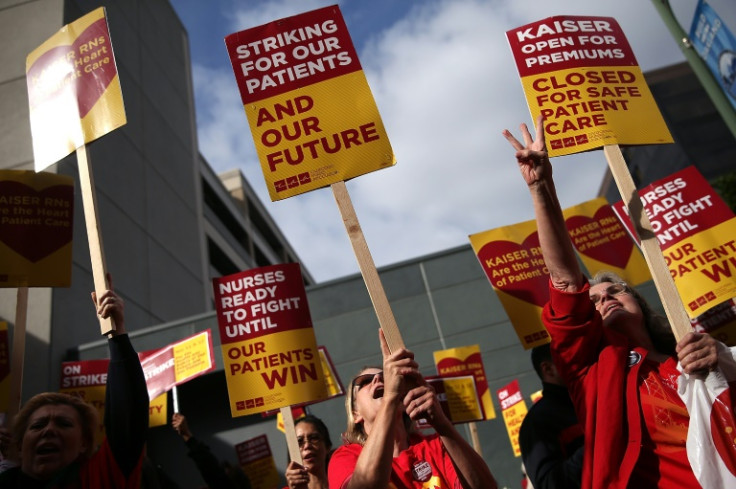 Unions representing 75,000 workers at Kaiser Permanente reached a tentative agreement with their employer on Friday, potentially paving the way to solve a dispute that has included the largest strike actions by health-care workers in the United States.
In an X (formerly Twitter) post, the unions highlighted the "instrumental support" of Acting US Labor Secretary Julie Su, who was scheduled to join the talks on Thursday.
The dispute included a strike from Oct. 4 through Oct. 6, which one union representative said came after months of unanswered requests. "Our contract expired Sept. 30, and we had already for over a year asked Kaiser to the table with a fair contract with things that need to be addressed and they kept putting us off" said Caroline Dardon-Spangler, SEIU Local 49 Union Steward. The actions affected hospitals in California, Oregon, Maryland, Washington, Colorado, Virginia and the District of Columbia.
Unions were requesting a 6.5% yearly salary increase for the first two years of the workers' contracts (they usually sign four-year agreements) and for the company to device a plan to deal with staff shortages.
Dardon-Spangler told the Latin Times last week that she believes low wages and risks have caused staff shortages because people see similar or even higher wages in jobs that don't come with the associated risks and stress. "The staffing crisis is why we're out there on the strike line, saying enough is enough. You need to hire more people, you need a competitive wage to attract new people," Dardon-Spangler said.
According to data from the New American Economy Research Fund, Hispanics make up 13% of the healthcare workers. Additionally, Hispanics are the group least likely to have health insurance. This data suggests that of that 13%, many might be doing the lowest paid jobs in healthcare, meaning that they will likely be relying on their employer to access health care according to previous reporting from The Latin Times.
© 2023 Latin Times. All rights reserved. Do not reproduce without permission.