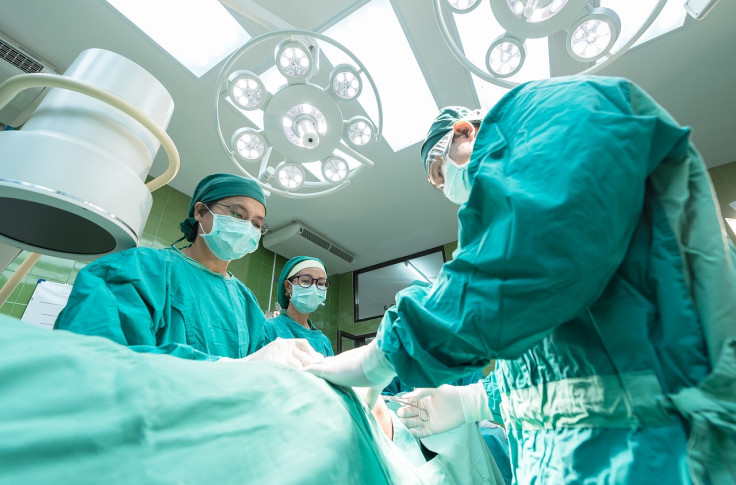 Hispanic people who have insurance slightly increased from 2021 to 2022, but the group remains as one of the communities with the lowest rates of health coverage.
The number of working-age Hispanic adults with health insurance —19 to 64 years old— increased 1.8 percentage points from 74.9% to 76.6%. Despite this, Hispanics still have the lowest rates of health insurance coverage, with 23.4% lacking health insurance compared to 6.8% of White people without a plan, according to U.S. Census Bureau data.
According to the Census Assistant Division Chief Sharon Stern, the Bureau collects the data through the Current Population Survey and the Annual Social and Economic Supplement, which ask people about their health insurance coverage at any time in the previous calendar year.
"People may be covered by more than one type of health insurance during the year," Stern said. "To be considered uninsured in this survey, the person must not have had coverage at any time during the year--uninsured in every month." Additionally, according to Stern, 2022 was the second year in a row that saw a decrease in uninsured individuals.
A literature summary from the Office of Disease Prevention and Health Promotion states that unequal healthcare coverage results in health disparities. Additionally, out-of-pocket healthcare charges due to not having health insurance can cause people not to seek the care they need. The literature summary also said people with lower incomes and minority groups account for over half of uninsured people.
"Lack of health insurance coverage may negatively affect health. Uninsured adults are less likely to receive preventive services for chronic conditions such as diabetes, cancer, and cardiovascular disease," said a summary from the Office of Disease Prevention and Health Promotion
The University of California Los Angeles conducted a study in 2019 that found Latinos are less likely to have access to healthcare because of a lack of access through an employer and barriers such as citizenship requirements.
Additionally, a more recent report from the U.S. Census Bureau found that the disparities found across different races could be because of many factors and that understanding differences in health insurance coverage by race and Hispanic origin may help increase equity between access to health care.
"Disparities in health insurance coverage status and type across race and Hispanic origin may reflect differences in the social determinants of health, which include occupation, income, poverty status, and other measures of economic stability, as well as where people live and their neighborhood context," said a report from the U.S. Census Bureau. The report shares that healthcare disparities exist among the Hispanic population despite the provisions of the implementation of the Patient Protection and Affordable Care Act in 2014.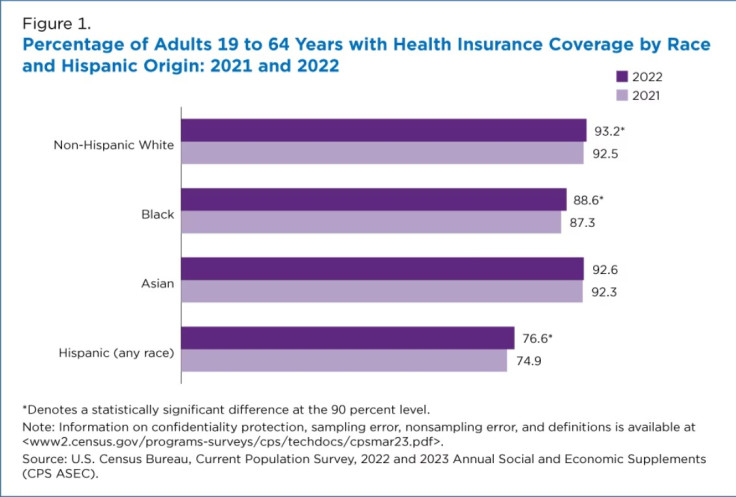 The report from the U.S. Census Bureau also said the increase in Health insurance coverage is mainly driven by employment-based coverage. The rate of all Hispanics who had health insurance coverage through employment increased by 1.8 percentage points to 77.6% of all employed Hispanics with health insurance.
The report said health insurance rates increased in all Hispanic groups, but the group with the highest increase in health insurance was the youngest workers between the ages of 19 to 25-years-old. Health insurance among this group increased 3.0 percentage points to 75.7% having health insurance.
Following the 19 to 25-year-old group was the 35 to 44-year-old group, which saw a 2.3 percentage point change at 75.9% of this group having health insurance. Next was the 45 to 64-year-old group, which saw a 1.9 percentage point change at 80.0% of workers with health insurance.
Some Black or African American people included in the data from the Census report might be people who identify as Hispanic or Latino.11.4% of Black or African American people were uninsured in 2022—the U.S. Census Bureau report shows a slight increase in Black people with higher insurance rates from 87.3% to 88.6% of black people having health insurance from 2021 to 2022. The report notes this increase is related to employment status.
© 2023 Latin Times. All rights reserved. Do not reproduce without permission.