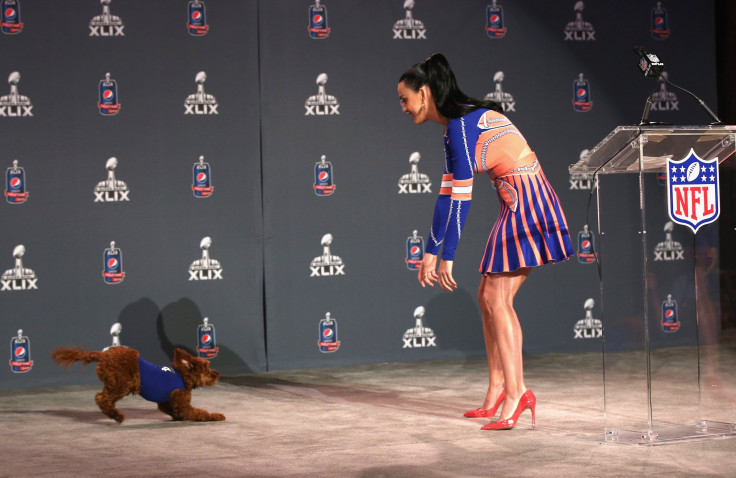 PHOENIX – It will be a homecoming of sorts for pop star Katy Perry when she takes the stage on the field at halftime for Super Bowl XLIX. Perry attended kindergarten and first grade at nearby Paradise Valley Christian School in Scottsdale, Arizona and even claims to have hiked up Camelback Mountain.
"I have a pride about Phoenix," she quipped. "I have hiked Camelback Mountain and been here for the summer. So I understand you. I feel that this is hometown turf."
Perry answered questions about her top-secret performance during her 15-minute press conference with the media on Thursday. The "Dark Horse" singer talked about her preparations leading up to the event, the performance itself, and even the controversial subject of "Deflate-Gate."
"Nothing in my performance will be deflated," she joked.
After her press conference, Perry talked to us about her special guest Lenny Kravitz, the advice she got from past Super Bowl performers and the rumors of a second surprise guest, which is believed to be Missy Elliot.
"I have to keep some of things a surprise," she said. "It's true there will be a secret guest and I'm very, very excited about this guest. All I can say is it will be a real 'female fun night'. When this person enters the stage and you hear the first ring of the chord, jaws will drop and faces will melt."
Perry has used the performances of her predecessors in order to shape her show on Sunday and even reached out via text message to last year's performer, Bruno Mars, who teamed up with the Red Hot Chilli Peppers on the field at MetLife Stadium in New York.
"When I look back the performers I admire like Beyonce who brings that incredible strength and sass and flips her hair like nobody else can; and Madonna who brought incredible graphic design and choreography, I wanted to do a combination of both," she told us.
Perry did reveal some other secrets of the show, which has been kept under wraps for months while she rehearsed with her team in Los Angeles. Perry has prepared for the show for nearly a year while traveling for her Prismatic tour that lasted over 108 consecutive days. In addition to the non-stop schedule, Perry has been on a very strict diet.
"I haven't been able to eat the Thin Mint Girl Scout cookies that I love," exclaimed Perry. "Although I have ordered 100 boxes of Thin Mints to be at the house after the show."
Perry was with her new puppy "Butters" who stole the show at the press conference. She revealed that Butters is not allowed on the field during her halftime performance on Sunday, but begrudgingly shared with us some animals that will be.
"I will tell you I think I'm the only person in Super Bowl halftime history who will bring both a lion and a shark to the show," she said furtively. "It's going to be wild out there."
You can catch Katy's twelve and a half minute performance at halftime of the big game that is set to kick off at 6:30PM EST from the University of Phoenix Stadium in Glendale, Arizona. The game and the halftime show will both air live on NBC.
© 2023 Latin Times. All rights reserved. Do not reproduce without permission.